888bet recently introduced its gambling platform in Kenya and also has functional mobile apps. You can download the 888bet app to access all of the sports betting options on the bookmaker's platform.
About 888bet App in Kenya
The mobile app is one of the innovative ways that Kenyans can access mobile sports betting options on their mobile devices. This bookmaker currently has an app for iOS and Android devices.
How to Download the 888bet App on Android?
Since 888bet has an Android mobile app, you don't always need to use the mobile website. The download process for Android is simple and can be done within two minutes.
However, players will be unable to access it directly on Google Play Store. Instead, what you can do is download the app directly from the site manually. Here's a step-by-step guide to help you download the Android application.
Step 1: Go to the bookmaker's website
Open your mobile browser and then enter the 888bet Kenya website. When you open the homepage, navigate to the download section of the site.
Step 2: Tap on the download button
Next, you can tap on the download button for Android users to begin installing the app. Your device will immediately detect the APK file, and you can download it on your phone.
Step 3: Grant access
When you download the APK file, you can't immediately install it on your phone. You need to go to your device settings to grant the app access. You can do so by changing the security settings to allow installation from "unknown sources."
Step 4: Proceed to install
Now that your phone can allow the installation, you can complete the download process. Immediately, you'll see the shortcut to the app on your home screen. After downloading the app, you can complete your 888bet registration and claim the free bets.
How to Download the 888bet App on iOS?
Like Android, 888bet also has a mobile app for Apple devices since It's still quite new.
iOS users can easily download the 888bet on their devices. Unlike Android devices, the 888bet app is listed on the Apple Store, so you don't need any external files.
Here's a simple guide to help you install the app on your Apple device.
Step 1: Go to the Apple Store
On your iPhone or iPad, open the Apple Store and search for the 888bet app.
Step 2: Tap on the 888bet App
When you search for the application, you will see the mobile app displayed on your screen. tap on it, and it will reveal the application details.
Step 3: Tap to Install App
On the app page, tap on "Get" to install the mobile application. Immediately the installation should begin and will take only a couple of minutes.
What are the 888bet App System Requirements?
888bet's mobile app is simple to get your hands on, whether you're using an Android device or an iOS device. Unfortunately, Windows Phone users cannot download the 888bet app just yet.
The mobile app has certain specifications that are worthy of mention. In other words, for the app to function properly on your mobile device, it is necessary for it to meet certain requirements.
Android Requirements
The 888bet app can work conveniently on devices using Android 2.0 or higher. Also, you can easily install this app on most Android devices. It will require a little memory space to install it.
Apple Requirements
Apple device users can download the iOS app on their iPhones and iPad. However, the requirement is that the software must be an iOS 8.0 or a later version. Also, the download size is about 6.5MB.
888bet Mobile Version
If you don't want to download the 888bet app, you don't have to. Instead, you can opt for a mobile-friendly website. The mobile site is identical to the app in every way, both in terms of design and functionality.
The speed and simplicity are comparable to the iOS and Android apps. Also, it is clear that 888bet put effort into their mobile site to make it easy to use. As a result, the app has a great design that makes it easy to navigate.
When you use a mobile website, betting is convenient and straightforward. Also, the mobile site is very secure, and it's easy to make payments on the site.
Like the desktop site, bettors in Kenya will have access to a wide range of banking methods. In addition, bettors will have access to all of the bonus offers, sports betting options and markets on the 888bet mobile website.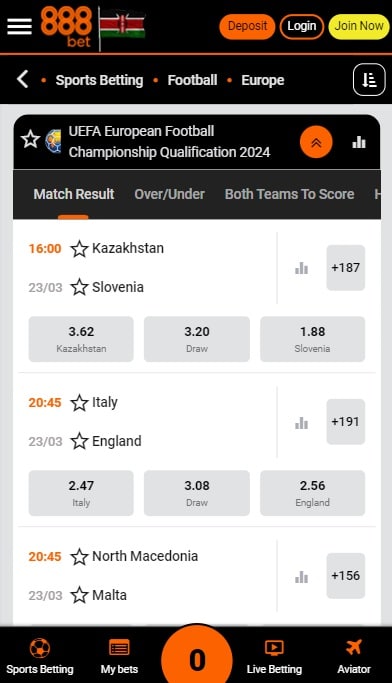 888bet App Features
888bet runs a full gambling platform where Kenyans can bet on football or other sports but also play casino games. There are many reasons why bettors prefer to download apps.
The app is functional, easy to access, and most importantly provides a convenient betting platform. Here are some of the reasons why bettors in Kenya prefer to download this betting application.
Convenient Payment methods
If you download the app, you'll have access to all of the payment methods on their platform. The mobile application has everything you will find on the website, so all the Kenyan available payment platforms are accessible on the app.
Wide Variety of Sport
Also, this bookmaker is one of the best in terms of sports coverage. 888bet offers over 30 sporting events on its platform, and all of them are available on the app.
As such, bettors can wager on football, basketball, tennis, volleyball, and virtual sports, among other popular sports.
Live Betting
The live streaming service provided by 888bet is quite good, allowing users to bet on a vast majority of major sporting events and tournaments.
You can bet in real-time on popular sports like football matches. The bookie offers competitive odds on their live games and also incredible betting markets.
Betting Features
In addition to the wide range of sports betting options available on the platform, Kenyans will have access to other betting features.
For instance, the 888bet app has a Cash-out feature and a Bet builder, among other betting features. You can also set your betting limit to monitor your gambling activities on their app.
Esports
If you don't want to play regular mobile sports like football,, there are many different esports available for wagering at 888bet.
You'll find popular games like Dota 2, Counter-Strike: Global Offensive, and Call of Duty. This betting platform is known for its competitive eSports betting options.
You can take advantage of this as not many bookies offer impressive markets for eSports betting.
Excellent User-interface
Whether you download the app or use the mobile site, you won't face any hassles accessing your betting account. 888bet's mobile platforms have been fully optimized for mobile users.
You can access all of their gambling products regardless of your screen size. The mobile app is visually appealing and functional. Also, the bookmaker provides intuitive menus that are easy to navigate.
The mobile betting interface, in general, is easy to use and well-structured. On the app, you can easily find your favourite sports and also compare the odds.
Also, you will be able to locate other features, such as in-play betting, when you scroll through the by menu.
Security
When it comes to security, 888bet has taken every measure to protect its customers' betting accounts. The bookmaker is registered and licensed to operate in Kenya.
As a result, all of their gambling activities are monitored and regulated in the country. In addition to getting a gambling license, 888bet offers a highly secure platform. So you can be sure that all your account information on the site will be completely safe.
Customer Service
One of the features you'll see on the 888bet app is their customer support. The bookie offers its support round the clock every day of the week.
You can contact the support team via their live chat feature, email, or phone number. The live chat feature is the fastest way to contact the bookmaker.
888bet has a responsive support team that will answer any of your inquiries.
888bet App Review
The 888bet mobile app is functional and effective and that's why a lot of gamblers prefer it.
The 888bet app is also intuitive and easy to navigate, which makes it stand out. The betting experience is identical on iOS and Android devices.
In addition, the 888bet app has fantastic features like cash out and live betting. Kenyans can also bet on regular and virtual sports on the app.
If you download the mobile app, you'll have access to hundreds of sporting events and betting markets.
Sports lovers can find excellent markets for football, basketball, tennis, and eSports. It is also a platform for casino lovers who want to enjoy the thrill of playing fantastic games.
The betting site features a casino section that offers a lot of games from leading providers in the casino industry. You can play casino games like slots, blackjack, roulette, baccarat, and even live dealers on 888bet.
The app has a fantastic interface and is very organised. You should be able to access its pages via a drop-down menu.
If you don't want to download any of the mobile apps, you can use the mobile-friendly website. Even though you can place live bets with it, you won't be able to watch the event on their platform.
After reading our 888bet review, you can choose to join this bookmaker. New players can sign up for a betting account on the 888bet Kenya mobile platform, they will have access to their incredible welcome bonus offers.
The mobile app registration process is seamless, even when using their mobile platform.
888bet App FAQ
Yes. 888bet has a mobile app for iOS and Android devices. However, at the time of this review, there isn't any app for Windows devices.
You can download the iOS and Android apps for 888bet on the bookmaker's site. However, iOS users can search for the application on the Apple Store, while Android users will need to install the APK file from the website.
Of course, if you download the app and register on the bookmaker's platform, you'll be eligible for their bonus offers. However, when signing up for a betting account, you can use the 888bet promo code to make sure you don't miss out on the welcome bonus.