When you've done it once, you'll know how easy the Betway login process is. This tutorial for customers in Kenya will guide you through those first steps. We'll also provide some troubleshooting tips and explain where to use the Betway sign up code.
---
Contents
---
Betway Login Guide
Having learned how to open a Betway account and have successfully done so, you next need to log in so that you can make a deposit, access the site's features and place your sports and casino bets. As one of the world's leading online gambling platforms, the login procedure is simple and intuitive across all devices.
Desktop Login
The starting point for your login on a desktop is the website's homepage. Follow these steps to get started.
First, visit Betway Kenya from your personal computer or laptop.
At the top of the page, there are two white boxes. One for mobile number and the other for password.
Then, enter the mobile number that you provided when signing up for your account. You'll notice that the country code is already there as a prefix. This means that you don't need to enter the first 0 (zero) of your mobile number.
After that, type in the password that you created when registering your account.
Finally, click the green Betway Kenya login button.
Mobile Web Login
Logging in via the mobile web using a tablet or smartphone is virtually identical to how it works on a desktop. Of course, you need to create your Betway account first, and then you only need to:
Using your regular browser, open the website.
Next, tap the login button at the top of the screen.
On the pop-up screen, enter your mobile number and password. Finally, tap 'Login.
You're now ready to use Betway.
As a note, this operator offers both sports betting and casino games. There is no specific Betway Casino login because the two products are combined on the same platform.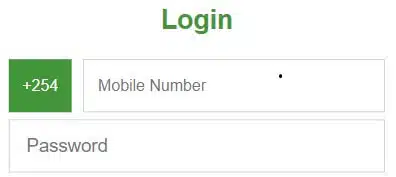 Betway App Login
Most app users create an account on the website before downloading the Betway mobile application, which is available for iOS and Android. Therefore, they are most likely already familiar with the steps for the Betway app login.
When you've opened the app, tap the login button and enter your details. It's that simple. As a heads up, if you only close the app, it won't log out. This is obviously convenient but risky if you lose your device.
Betway Casino Login
After creating a betting Betway login account, the next step is to log in, deposit then place a bet. Just like the registration process, Betway login Kenya is easy and simple. Three steps can help you:
Locate the official Betway website.
Navigate to the Betway casino login section located on the top right side of the homepage
Enter the phone number and password created during the registration process.
Then click on "Login".
How to Reset a Betway Password?
If you forget or lose your password, it's very easy to reset it, so you can gain access to your account.
Click 'Forgot Password?', which is the link just below the password box.
Next, enter your mobile number and hit 'Password Reset'.
Betway will send a reset code to your phone (security to ensure it is you trying to reset the password). Enter the code and create a new password. Then, confirm it and hit 'Reset Password'.
You can now use the new password for your Betway Kenya login to open your account.
Betway Login Problems
It rarely happens, but you may encounter Betway login problems at some point. Naturally, this is a major inconvenience. Here are some quick troubleshooting tips to help you out.
Check your Betway casino login details – Have you entered your phone correctly (remember no '0')? Is the password correct? You haven't got caps lock on, for example.
Check you're connected to the internet – Look at the signal strength if using a mobile device or check your connection status from a desktop. Perhaps try opening another website to see if that works.
Slow connection – The homepage of Betway's website has several banners and images. Loading can be a problem if your connection is too slow, which means you cannot complete the Betway Kenya login.
Is Betway down? – It could be that the reason your Betway Kenya login isn't working is that the site is temporarily down. Open another website to check your connection, then Betway again.
If you experience any of these issues and still cannot log in, please contact customer support, and they will provide assistance. You can reach them by live chat, email, WhatsApp, social media. Additionally, you can fill in a contact form.
Betway Login Kenya FAQs
You should now be able to breeze through the Betway login and get to what matters – and that's placing some bets. We've added a couple of FAQs for additional information.
How to Verify a Betway Account?
Your account is verified when you first sign up and confirm your mobile number. However, you will need to complete the identity verification checks before you can make a withdrawal from this betting company.
How to Login to the Betway App?
Open the Betway app and tap 'Login'. Enter your details and hit the second login button. Remember, if you close the app simply by pressing the 'Home' button on your phone, you will remain logged in.
How to Claim the Betway Welcome Bonus?
To claim the sports bonus, you must make your first deposit. Next, you have to place bets 3x the amount of the first deposit value at odds of 3.0 or greater. Once you complete this qualification phase, your bonus will be credited to your account.