The English Premier League is the top league in English football, and with a lot of matches to play, this presents a lot of Premier League betting opportunities. This is why we have presented our EPL predictions in this article to help you make the correct football predictions of the matches you bet on.
18+. Maximum amount – KSH19,500 The minimum deposit is KSH 1,000.00 . Wager 5 times the bonus amount in accumulator bets. At least 3 of the events included in an accumulator must have odds of 1.40 or higher. T&Cs Apply.
What Are the EPL Predictions for Today?

nikolaqq
Yield: 6.39%
Premier League
02/12 16:00
Arsenal -1.50 (AH)
Arsenal are 1st with 30 points from 13 matches. They won nine, drew three, and lost just once with a +17 goal difference. Wolves are 12th with 15 points in 13 games. They won four, drew three, and lost...

nikolaqq
Yield: 6.39%
Bournemouth
vs
Aston Villa
Premier League
03/12 15:00
Over 2.75 goals
Bournemouth went nine times over and four times under 2.5 goals with 3.2 goals per game. Aston Villa went 10 times over and three times under 2.5 goals with 3.8 goals per game. These teams are combined...

Brandon1414
Yield: 4.61%
Burnley
vs
Sheffield United
Premier League
02/12 16:00
Burnley to win
Burnley are bottom of the table and arrive here having lost all of their last five league games. Here they face a familiar face, Sheffield United, a team they played against last season when they both...

Brandon1414
Yield: 4.61%
Premier League
02/12 16:00
Arsenal -2.00 (AH)
Arsenal are top of the table and have been playing really well in recent games. Here they face Wolves who are not doing too hot for the moment. The guests are not performing too well when playing away...

Brandon1414
Yield: 4.61%
Nottingham Forest
vs
Everton
Premier League
02/12 18:30
Over 2.5 goals
A very difficult game to predict. Nottingham Forest are rather good in the offence, and especially excel so when playing at home. Here they face Everton who have plenty that they're dealing with. Everton...

Brandon1414
Yield: 4.61%
Premier League
02/12 16:00
Luton +1.00 (AH)
Brentford are excellent at home and could be a very big threat to the visitors. Luton, the visitors, are however on the rise and have begun playing much better and arrive here following a 2-1 over Crystal...

Brandon1414
Yield: 4.61%
Bournemouth
vs
Aston Villa
Premier League
03/12 15:00
Bournemouth to win or draw
Rather difficult game to tip here. Bournemouth have managed two wins in a row and appear to be on the rise as they arrive here. They face Aston Villa however, the guests are in excellent form and most...

Brandon1414
Yield: 4.61%
Premier League
03/12 15:00
Liverpool -2.00 (AH)
Liverpool are playing good for the moment and after a 1-1 draw against City they'll surely look to get a win here so they can continue to climb the table. Here tehy face Fulham who are a lot of up and...
EPL Standings
How to Bet on EPL Predictions?
Nottingham Forest
Everton
Newcastle
Manchester United
Manchester City
Tottenham
Return
▼
BET AT

bet365
Odds are subject to change. Last updated
December 1, 2023 4:55 pm
.
English Premier League Matches
Premier League Live Score
EPL Top Scorers
How Did We Choose Our EPL Predictions?
Like every other football prediction, there are some Premier League tips for betting.
We have put together Premier League predictions for you.
However, before we got to that final product, we considered many factors, aiming to present very closely accurate Premier League predictions. Here are some of the Premier League tips we used to sift out our predictions.

Previous Winners
Previous winners of the English Premier League pose a will to win every match to retain their title. This factor plays a huge role mostly at the beginning of the season, but other factors come into play as the season heats up.

Form of the Team
The form of a team is a strong indicator. When a team is on a roll, we tip them for a win or a yes prediction in both teams to score the market.
We can also play the team in double chance if they are playing at home.

Research and Analysing Stats
Research and analysing stats form the foundation for our predictions. Clearly, all the other factors we have mentioned here are put together after conducting extensive research and having most of the details necessary to make a close enough prediction.
This is without the emotions of supporting a particular team or another.
Our research allows us to see what happened in the past and how it can influence the future.
For example, from our research, we could decide to play handicap in a particular match instead of the match-winner market, or both teams to score in a live bet if a smaller team is in the process of upsetting a larger team.

League Standings
When it comes to picking predictions, this is not our mainstay, but it can be a powerful motivator. For example, if a relegation team plays a mid-table team, we are out to see a well-fought match that could end in a draw, have many corners, or have both teams score.
It could also be the same for a top team trying to get to first place. Whether at the top or bottom of the table, it is a factor to consider when the motivation is there.

Derbies
Using derbies as a prediction tip may sound weird to a stranger to the English Premier League. But to those who have watched the English Premier almost since it started, derbies are too important to overlook.
The most popular include the London Derby, which has three teams – Arsenal, Chelsea, and Tottenham.
Next is the Merseyside derby – Liverpool and Everton, the Red and Blue of Liverpool. And finally the most interesting in recent times, the Manchester Derby – between Manchester United and Manchester City.
These derbies are serious, and it takes a close analysis to predict these games.

Betting Markets
In coming up with our Premier League tips, we considered the betting markets. And to make it as beginner-friendly as possible, we only looked at the very popular markets.
Match Winner
This market is the easiest betting market to place your bets in. It is easy because you can just look at the favourites and choose them for the win.
There are three options in this market. There is the option of a home win, an away win, and a draw. The issue with this market is the upsets that are very prevalent in English Premier League matches.
Over/Under
Premier League matches can feature many goals or not so many. Of course, this depends on the teams playing.
So, we handle the over/under predictions on a case-by-case basis. The over/under market is a prediction of how many goals will be scored in a match. The ranges start from 0.5 to 5.5.
The over/under market provides a good alternative to bet on when you know it is a derby and the two teams are in form. In this case, the match-winner market could swing either way, so the over/under-market comes to the rescue.
Both Teams to Score
In this market, you predict whether the two teams will score or none will score.
There are only two options in this market – yes and no. The 'yes' is a prediction that the two teams will score, and the 'no' option is that either one or none of the teams will score.
Combined Markets
Combined markets allow you to make predictions in more than one market for a game. For example, you can combine the match-winner market (1×2) with the over/under market or the half-time market with the over/under market.
This makes for a more interesting bet as you predict more than one event in a single match. This market is popular because you get better odds, but we are careful with it because the more predictions you make in one game, the higher the risk of losing the bet.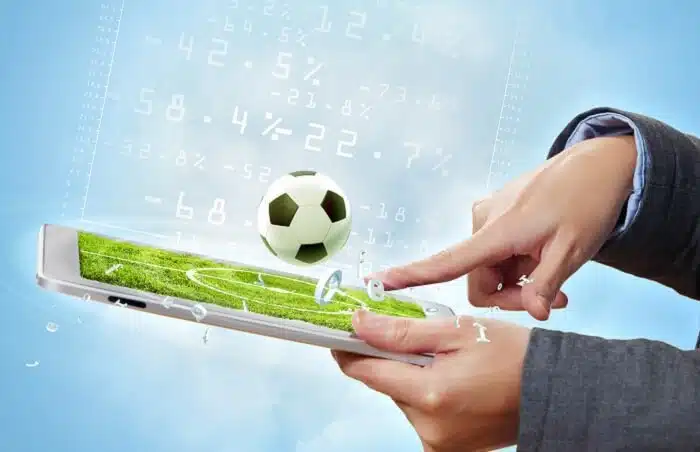 How to Bet on the English Premier League?
Premier League betting is very interesting. But before you delve into betting in the EPL with our Premier League predictions, you must understand some facts about the EPL.
Firstly, the English Premier League features 20 clubs that play in a round-robin format every year. For every match played, there are points: three points for a win, one point for a draw and no points when the team loses.
At the end of the season, the team with the highest points wins the Premier League title.
The top four teams qualify for the Champions League. The next two or three teams qualify for the Europa League.
Then the bottom three teams are relegated to the English Football League (EFL), while the top three teams from the EFL go to the EPL.
All this plays into the different permutations before making a prediction. So, for example, a team fighting relegation playing a mid-table team who has nothing to lose except maybe a chance at the Europa League may have more motivation to win.
Furthermore, before you bet, you will have to depend on a bookmaker.
There are a lot of bookmakers out there. So, we want to look at some factors to consider before choosing a bookmaker.
Welcome Bonus
The welcome bonus a bookmaker offers is the first thing to consider, especially how big it is. The welcome bonus means you don't have to start betting with your money but can use the bonus.
This stretches how much your deposit will last. In addition to how big it is, we also consider how easy it is to unlock.
Other Bonuses
Apart from the welcome bonuses, bookmakers offer other bonuses to make betting interesting. Such bonuses can include accumulators of the day, accumulator bonuses and a bonus for when you lose a bet.
So, look out for this when choosing a bookmaker.
Betting Markets
The betting markets available for EPL matches are also important.
A wide range of betting markets allows you to test your prediction skills on many events. Some betting markets include the total number of corners, number of yellow cards, time for the first substitution, and many more.
Live Betting
The live betting feature adds another dimension to betting. This allows you to bet on a game after it has started. You can easily take advantage of the progression of the game to place bets.
This reduces your risk, and you can place as many live bets as possible as you follow the game.