Using the 22bet app will help you overcome all of your betting woes. Having the flexibility that only a 22bet mobile app can bring goes a long way. Much of the overall sports wagering has been transferred to mobile phones, so it is quite important to have a very good betting app at your disposal.
22bet Android App Download Guide
The 22bet app Android is very popular in Kenya due to its large number of users. Using the app is not difficult, and even a first-time user can easily get behind it and start placing wagers.
However, the 22bet app download process is a bit different and can be a bit troublesome, particularly if you haven't installed an Android betting app before.
First of all, you can't download the app from the Google Play Store. But what you can do is obtain the APK for the app on the operator's website.
Scroll down to the bottom of the site and press the Android icon. It will take you to the page where you will be able to obtain the app.
To get the 22bet app Android, follow these steps.
Press the "Download App" button.
Once the APK for the app starts to download, a pop-up message that says "Open" will appear that you have to click on.
Go to "Settings" and allow app installation from unknown sources.
Switch to "Allow for this source."
Go back and press "Install."
The app will automatically start to install.
After it is done, a message that says "Open" will appear. Press it and start enjoying the app.
---
---
22bet iOS App Download Guide
When it comes to the 22bet App iOS, obtaining it is significantly easier to do. Since it is available at the App Store, users can download it and install it as any other iOS app.
Its usage is similar to the Android version as both apps work great and are specifically aimed to allow remote betting.
For your iOS 22bet app download follow these steps.
Go to the App Store or visit the 22bet website.
If you decide to install via the App Store, search for the app using your browser or the search bar.
If you go to the site, scroll down and click on the iOS icon.
Press the "Install" button.
Wait for the app to download and install automatically.
Once the 22bet app iOS is installed and ready, start placing some sports bets.
22bet App Kenya Review
The 22bet mobile app is quite easy to use, even for beginners. Players may even decide to use it right off the bat and skip the site altogether.
It works significantly better than loading the site via a browser over a phone and generally copies all of the main site features that the desktop version has, which we also covered in the complete 22bet review.
Some of the main features that may convince you in trying out the app are:
Works really fast.
Supports all the main betting markets seen on the website.
The bet slip system works really well.
Allows new players to register via the app.
Enables fast log in and access.
Downloading and installing it is not a problem.
We really liked using this app and we think you will too. However, various players may come with different needs so deciding whether to use it can be a personal choice. Whatever the case may be, here are some of our pros and cons.
| What we like | What we don't like |
| --- | --- |
| It is very easy to use and install. | May not be compatible with some smartphone devices. |
| Works fast and in some situations even better than the site. | Requires a stable internet connection for live wagering. |
| Has multiple features that improve overall use. | |
How to Login to the 22bet App?
One of the main features that the 22bet Kenya app is able to provide its users with is a quick login function. Basically, you are one click away from all of your betting needs.
You need to take the phone out of your pocket and press the app button. As it opens you can start with normal usage.
The 22bet app login works significantly faster if you save your login details. This will enable you to perform the one-click-login function. But you can do it manually and enter the necessary details every time.
To login in via the app, do the following.
Click the app icon on your phone.
The 22bet app login will be initiated automatically.
Enter your account details (email/username & password).
Once successfully logged in, start placing sports bets.
If you decide to use the native browser on your phone to use the site, the process is rather similar to the desktop login. It does not work automatically as via the app but is equally easy to do.
Look for the 22bet website via your native browser on your phone.
Load the site.
Scroll through and locate the Register button on the website.
Enter your log in details (ID or email address and password).
After you log in, look for the current betting opportunities.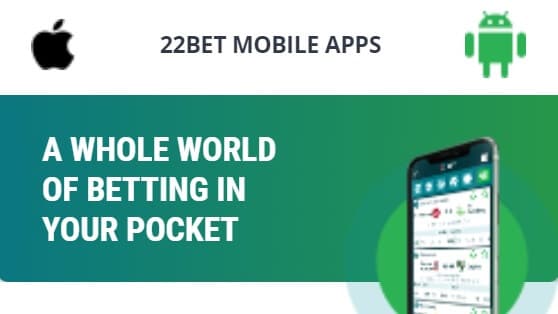 How to Use the 22bet App?
Using the 22bet Kenya app is like having your own betting service with you at all times. You carry it wherever you go, right there in your pocket. Accessing it only requires the action of taking your phone out and pressing the app icon.
Also, there are plenty of things you can use the app for.
Place Bets
Placing bets from anywhere at any time is the main function of the app. In fact, that is the purpose it was created for. Players can view the current matchups, devise their strategy, make calculations, and eventually place a bet.
The way that they can create a bet slip is almost the same as on a desktop site. Simply, find the matchups that you want to add, click on the available markets, enter the amount you wish to wager, and wait for your bet to go through.
But be sure to establish a stable internet connection whenever you are using it, particularly when placing live bets.
Watch Games
Having streams available goes a long way. Watching a game that you've just placed a bet on is what users look forward to. Things get even better when you are able to do the same via phone.
However, in order to watch games without interruptions, a stable internet connection is required. Maximum pleasure can be achieved after all of the main conditions are met.
Check Odds
Being able to check the odds and create your tactics is a great advantage for bettors. Doing everything fast and without thinking things through is often a very bad practice.
But if you stop and think about it and check all the corners, you are going to be able to create a very good combination.
You can check out the current odds and determine all the available markets with your phone at hand. If you don't have time to do it at home, you can do it while commuting to work or while you are on a break from work.
All in all, having an app close by that shows the odds live as they are updated is more than helpful for your overall wagering.
Be advised that the odds can change just before the match starts. So checking them often and placing them at a specific time is crucial.
Use a Promo Code
The app also allows you to enter a designed promo code as well. If you are able to find a 22bet promo code, you can also enter it through the app with ease.
Just make sure to find the designated field where you can enter it as sometimes it is available during registration and sometimes it goes after.
But you should also know that having and using a bonus code will not unlock a certain bonus. At least not immediately. Players have to complete a set of steps that will ultimately allow them to obtain a welcome bonus.
It is best to read the complete terms and conditions of a bonus before trying to obtain it.
Withdraw Money
Winning is what counts and being able to transfer all the obtained funds quickly is even more important. Players can do just that with the app. They can transfer the accumulated funds using any of the available payment methods.
Transferring funds to your bank account can be done in a similar manner as via the website. But the transfer period may differ based on the chosen payment method.
How to Update the 22bet App?
An update from time to time is in order to enjoy the app properly and continue its impeccable function. As the developer provides updates, you should install them to ensure the proper work of your app.
You can update it accordingly once an update is available.
One can do that automatically and allow the 22bet Keyna app to update itself or manually update when an update is available.
Why is my 22bet App Not Working?
Running into problems is not something out of the ordinary. At the same time, all of the issues can either easily be avoided or resolved.
Some of the problems that occur often are not being able to install the app because your phone is not compatible or does not meet the requirements of the app. Also, there might be a problem installing it if the user is located away from Kenya.
The best way to go around these problems is by contacting the support team. If you notice an improper function of the app, you can reinstall it. Don't worry, as long as you have your account details, you can log back in whenever you need.
22bet App Review
Android App

iOS App

Promotions