Learn how to complete your MozzartBet registration today and claim the available MozzartBet bonus to get you started with this operator. Discover how to set up your account on the website or mobile.
Valid in

Ksh 200,000,000 – MOZZART SUPER GRAND JACKPOT
Offers a competitive jackpot bonus
Easy registration process
Mobile app available for Android and iOS
18+.The Mozzart Super Grand Jackpot competition consists of predicting the final results of 20 football matches selected in advance by Mozzart Bet. The minimum and maximum number of games in the ticket is 20. Participants in this competition are obliged to pay tickets before the start of the first match in order to qualify themselves for Mozzart Super Grand Jackpot. The stake is fixed and amounts to 50 Kshs for one combination. It is allowed to bet on several combinations, double or triple outcome (double or triple), provided that each new combination costs 50 Kshs. T&Cs Apply.
Mozzartbet Registration Kenya: Instructions
If you have not registered a MozzartBet Kenya account, you can still access the home page, but you cannot place bets.
With MozzartBet registration, you can fund your account and take advantage of the diverse sports betting markets as well as promotional bonuses. Luckily MozzartBet Kenya registration is seamless and only requires a few steps.
🔎 MozzartBet Kenya Online Registration
Here are the steps required to create a MozzartBet login account using a web browser.
✅ Fill in the MozzartBet Kenya registration form, which only requires your phone number and password.
✅ Confirm that you accept the T&Cs and Privacy Policy and that you are over 18 years of age by ticking the checkboxes.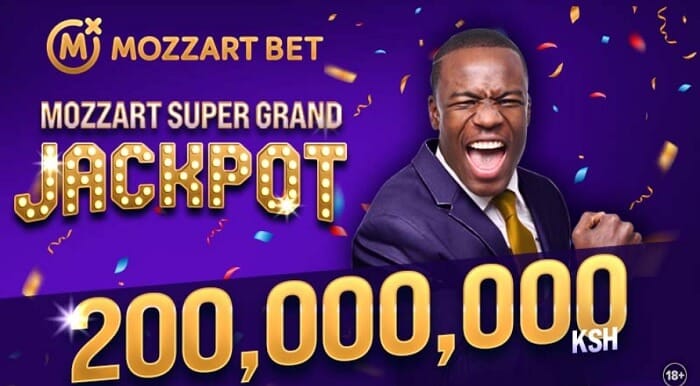 ✅ Your account is set up immediately, and you will receive a verification code via SMS. Enter the Pin Code to activate your MozzartBet Kenya account.
How to Register on the Mozzartbet Mobile App?
MozzartBet Kenya is among the top sportsbooks in Kenya that have developed an excellent and functional app for its customers. This app can access various features, just like what the website offers.
Registration through the app follows the same procedure as the one on the website. Here are the steps to follow to register an account from your mobile device.
Download the MozzartBet betting app. You can also opt to use the mobile browser site instead of downloading the MozzartBet app.
Launch the app and from the homepage, click on the 'Register' button in the top right corner.
Fill in the MozzartBet Kenya registration form. The only details required include your mobile phone number and password.

You will receive an SMS confirmation text with a verification code. Key in this code and your account is set up immediately.
After registration, you can go ahead and fund your account to start betting. Luckily, MozzartBet Kenya offers convenient payment methods, including Mpesa, which supports safe and swift transactions.
What Are the Mozzartbet Registration Requirements?
You have already seen how easy it is to register for a new customer account at MozzartBet. As with any online betting site, opening an account has a few standard terms and conditions.
Residence
You must be a resident of Kenya to register for a new account at MozzartBet.
Legal Age
All new customers must also be at least 18 years old to sign up and place bets at MozzartBet.
New Customer
It may seem like an obvious point, but you must be a completely new customer to register for a new account with MozzartBet. Multiple customer accounts are not permitted.
How to Verify a MozzartBet Account?
As soon as you click the 'Register' button to complete the MozzartBet Kenya registration process, you will receive a text message from 29990 bearing the activation code.
Go back to the MozzartBet Kenya website and complete the verification process by entering the activation code.
If you do not receive an activation code, you can contact customer care and request another code. Verification is essential because the online sportsbook must verify that the phone number owner is the person registering the Mozzartbet Kenya account.
Benefits of Registering with MozzartBet Kenya
As we have continuously said, MozzartBet is a bookmaker that offers lots of fantastic betting options.
But more than that, there are other reasons why registering with MozzartBet is a very good option. And we will list some of them below.
Different Ways to Bet
MozzartBet Kenya offers different channels for bettors to access the services. The first is the desktop site.
This is the first form of contact for those who are more used to desktop computers than mobile devices.
The second platform is the mobile site and the mobile app. These two are available to make betting on mobile devices easy and possible anywhere.
Secure Platform
With MozzartBet Kenya, you can have peace of mind concerning your transactions. The MozzartBet platform was built with security in mind, with secure socket layer protocols to secure the desktop and mobile sites.
Even the mobile app was built with the latest security technologies, so you can be sure your personal details won't be tampered with. All your deposits and withdrawals are also secure.
Jackpot
There is a jackpot prediction on MozzartBet Kenya. You can either play the daily jackpot or the weekly jackpot. The daily jackpot has a 20 million KES prize, and the weekly jackpot has 200 million KES prize money.
Of course, terms and conditions apply to both.
The daily jackpot is a match result prediction for 16 matches, while the weekly jackpot is 20 matches. The wager for the daily jackpot is 20 KES, and for the weekly, it is 50 KES.
To participate, you have to make the picks and stake your predictions. You can make up to 3 predictions per jackpot.
MozzartBet Registration Bonus
When you sign up for a brand new customer account you automatically give yourself the chance to take advantage of all the offers and promotions. One of those is the MozzartBet Super Grand Jackpot.
There are obviously plenty of betting markets and games to explore. But you should also take a look at the Super Grand Jackpot.
For a fixed 50 Ksh stake, you just need to correctly predict 20 football matches.
If you get them right you could be winning a big cash prize.
You can make your predictions on the MozzartBet Kenya app or the website. But make your predictions wisely though – you could be winning 200,000,000 Ksh.

Problems with MozzartBet Registration
As you can see, the registration process for MozzartBet Kenya is extremely straightforward. It is simple and should be quick to complete.
But on the rare occasion, you have any issue signing up; it is also quick to resolve the problem.
Internet Connection
You will need to be online to complete registration, so if your connection goes down or is intermittent, you may have a problem. Just give it a moment to correct itself, or go somewhere the Wi-Fi is more stable.
Incorrect Details
Before you sign up for a new customer account at MozzartBet, you should ensure to fulfil all the requirements. This could be your personal details, i.e. full name, address, contact number, etc.
If there is a problem, check your details to see if you have made any errors. However, if everything still looks fine, get in touch with the MozzartBet customer support team for assistance.
MozzartBet Kenya Registration FAQs
To bet online on MozzartBet Kenya, you need to register an account with the bookmaker. After completing the MozzartBet login process, you will see a lot of betting markets; so, simply click on the game you want to bet on.
Then, choose the betting market you want to bet on and make your picks, and you can pick as many predictions as you want to make. After that, stake some money and confirm the bet.
To complete the MozzartBet login process, you need to use your mobile number and your password. Input these details in the MozzartBet login section on the website's home page. On the mobile app, you can click the menu and click on log in and then enter your login details.
You can download the APK file from the bookmaker's site and manually install it on your device for Android phones. Make sure you allow installations from unknown sources.
For iOS users, you can search the App Store, and you will see an app with the official logo of the bookmaker, click on it to install it
Here are some customer support channels that this operator provides:
Email: help@mozzartbet.co.ke
Phone: +254 709168000
These customer care channels are available 24 hours a day. You can also check the Help Centre to see the articles the bookmaker features to sort out basic issues without waiting for the customer service team to respond.
Our MozzartBet Registration Review
Mobile Registration

Desktop Registration

Welcome Bonus

Deposit Methods
MozzartBet Registration Review
You can register an account on MozzartBet in two ways; through SMS or online. To register via SMS, send the word "WIN" to 29990, and you will receive your secret PIN Code and password that you can use to log in.
To register online, click the "Register" icon on the MozzartBet website's homepage and fill out the registration form with your phone number and password.