The BetLion deposit is a fundamental feature of the online bookmaker stationed in Kenya. This is because payment and deposit setups are vital aspects of any sportsbook that is worth its salt and seeks to serve the betting community.
BetLion Kenya Deposit Methods
As we commence our deposit review, we examine the various modes and channels that BetLion Kenya provides. In Kenya, the BetLion withdrawal and deposit options use the Mobile Money payment service; this is analysed in the subsections below.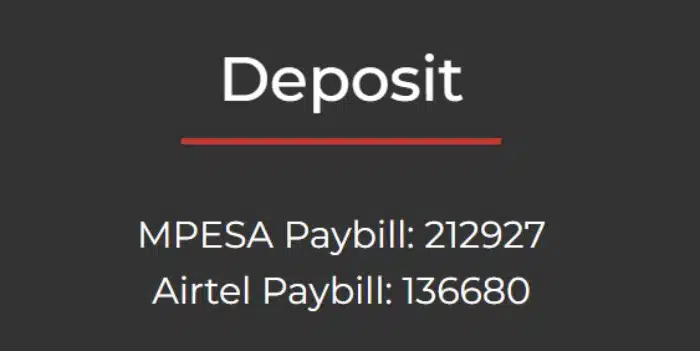 Mpesa Paybill (212927)
This Safaricom payment initiative uses the mobile service to collect funds. The way it works is that an establishment has a Paybill number that customers can make payments into.
Bettors using Mpesa can thus deposit funds into their BetLion accounts using the Paybill number 212927. This deposit method is widespread and generally accepted in Kenya.
Airtel Paybill (136680)
This mobile money service is similar to the Mpesa Paybill, however, on the Airtel Kenya platform. Customers using the Airtel service provider can pay into their BetLion accounts using the Paybill number 136680.
This payment method is reliable and serves as a viable alternative or option to the Mpesa Paybill.
SMS
Bettors can also deposit by using text messaging.
Notably, a BetLion coupon code might be needed to deposit on BetLion.
How to make a Deposit on BetLion Kenya?
We will explain the depositing process in detail after seeing the three deposit methods in our review's previous section.
Web Deposit
This applies to both Mpesa and Airtel users. Bettors can deposit via the web (site) option by following the procedure below.
Visit and log in to your BetLion account.
Click the green-coloured 'Deposit' button and wait to be redirected to the deposit page.
Choose your deposit amount from those listed, or enter the amount to deposit in the space provided.
Click on the green-coloured 'Deposit' button under the deposit form.


Complete the deposit process by entering your Mobile Money PIN on your phone.

Mpesa Paybill
Follow these steps for the Mpesa paybill using your phone.
Access the Mpesa menu and select 'Lipa Na Mpesa'.
Choose 'Paybill' and input the Paybill number (212927).
Afterwards, input your BetLion mobile number in the 'Account Number' field.
Specify the deposit amount and enter your Mpesa PIN to authorize the transaction.
Verify that all information is accurate and confirm the deposit.
Airtel Paybill
Follow the steps below for the Airtel paybill using your phone.
Open Airtel Money, select 'Make Payments,' then choose 'Paybill.'
Select the 'Other' option and type 136680 as the Business name.
Specify the deposit amount and enter your PIN to approve the deposit.
Type 'BetLion' in the Reference field to confirm the transaction.
SMS
Bettors using this option should send D#Amount or Deposit#Amount to 40418. For example, send D#500 to deposit KSh 500.
Notably, all deposits are completed immediately.
However, in extreme and rare cases, deposits can take up to 30 minutes. If your deposit exceeds 30 minutes, kindly contact BetLion support for assistance.
BetLion Deposit Kenya FAQ
As we conclude this deposit review, we answer some common questions bettors have about this popular online Kenyan operator.
The BetLion Paybill number differs depending on the mobile network you are using.
Airtel's users can deposit funds into their BetLion accounts using Paybill number 136680. On the other hand, Safaricom customers have to use the Mpesa Paybill number 212927.
The popular online bookmaker BetLion does not have a fixed minimum deposit value.
If deposit limits exist, it will depend on your payment method or mobile service provider. BetLion customers are thus encouraged to check with their mobile money service providers for clarification.
BetLion has several bonuses and promotions. A deposit bonus is, however, not included in the BetLion bonus lineup at the present time.
No, BetLion does not charge any deposit fees for using its Sportsbook. Notwithstanding, this does not mean that bettors do not have to pay any deposit charges.
Mobile money transactions can attract nominal fees or charges.