In this BetWinner login guide, we will be looking at how to access the BetWinner website and explore the betting markets. When you register for a new BetWinner account, you can also use a BetWinner promo code to activate a welcome offer. Read on to find out how to get the most out of your account.
---
Contents
---
BetWinner Login Guide
You will need to register for a BetWinner account to take advantage of any of the markets, odds or promotions at this betting site. This is very straightforward, and part of the sign up process is to choose a security password.
Your password will be used every time you complete the login, so make sure it is easy to remember.
Once you have signed up for a new customer account, you can just follow these simple BetWinner login Kenya instructions to gain access at any time.
First, navigate to the homepage of the BetWinner website.
Click on the 'Login' button in the top right-hand corner of your screen.
You will choose to complete the BetWinner login by email, ID, or phone.
Next, enter your phone number or email/ID in the box provided.
Then, enter your BetWinner login Kenya password.
Finally, click the 'Login' button at the bottom to access your BetWinner account.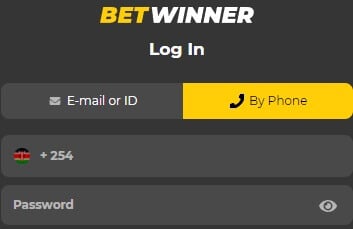 How to Login to the BetWinner App?
The process for logging into BetWinner on the mobile site is exactly the same as on the desktop site. The steps mentioned above can be used.
If you are using the BetWinner app on your mobile phone, the login process is quite similar. You can download and install the mobile app from the BetWinner website.
First, launch the app and wait for it to load.
From the home screen, tap the 'Log In' button at the top left corner.
In the login screen, enter your email ID or phone number, and your password. If you have forgotten your password, tap on the 'Forgot Password' link.
Now, you are logged in to the app. Even if you close the app or turn off the phone, you will stay logged in. This is one of the advantages of the BetWinner app.
Additionally, while you are logged on to the app, you can get notifications about upcoming bets and previous bet results. Alerts about bonuses will let you claim those as quickly as possible. In general, it is better to use the app than the mobile site.
BetWinner Login Problems
Some players often face login issues. These issues can be due to a variety of reasons.
Browser
Many basic issues are caused by the web browser you are using. Try a different browser or clear the cache. Alternatively, try using the mobile app instead.
If your BetWinner login credentials are being rejected, then check if you are entering them correctly. Many people often make a typo and don't notice until later on.
Location
Another possibility could be that you are trying to log in from outside Kenya. For Betwinner login Kenyan players are the only ones accepted. Players from other countries are not allowed at the Kenyan site.
Using a VPN can also cause issues. We recommend turning off any VPNs or proxy servers that are activated when creating a BetWinner account or logging in.
Disabled Account
Finally, if you are underage or if you violate any of the terms and conditions, your BetWinner account may be disabled. In this case, you will have to contact their customer service.
But if you do have any issue accessing your account– or anything else to do with BetWinner – there is a customer support team on hand to help. First of all, you should check your internet connection and whether you have put in the correct login details. If that's fine, maybe the BetWinner website is temporarily down. You can reach the support team using any of the following methods:
Email – info@betwinner.ke
Phone – +254 800221368
Live Chat – using the icon on the site.
There are also a number of other dedicated email addresses you can use for specific problems, such as security, advertising, finances and customer feedback. But the general queries is probably the best one to go for first if you have any issues getting into your BetWinner account.
BetWinner Login Kenya FAQs
In this section, we will answer some basic questions about BetWinner Login, so read on to learn more about it and solve your queries.
How to Verify a BetWinner Account?
When you register for a new BetWinner account, you may be asked to provide some ID for verification purposes. BetWinner will contact you to ask for this verification, so just follow their prompts and provide anything that is required. Usually, they ask for players' identity verification before the first withdrawal. 
How to Login to the BetWinner App?
Using the BetWinner app gives you even more freedom and allows you to make your selections wherever you are. Once you have installed the app onto your iOS or Android device, you will be able to log in the same way as the desktop version. You may even have your device remember your details, so it automatically logs in every time you access the app.
How to Claim the BetWinner Welcome Bonus?
New customers can start off their time with BetWinner in the best possible way by claiming the welcome bonus when registering for an account. You will need to opt in when you are signing up, but once you have done that, you just need to make your first deposit. Then, BetWinner will match your deposit 100%. Thus, you will instantly have double funds to play with.