MSport is one of the best betting sites, with a wide choice of betting options and amazing offers for its users to enjoy. This MSport review will exhaustively discuss the bookmaker and analyse if the platform is actually worth checking out.
---
---
About MSport Kenya
MSport is a relatively new betting site, having launched in 2020. Yet, it has swiftly established itself as one of the top online sportsbooks. MSport offers a plethora of betting options on the sports betting website.
MSport offers a wide choice of sports, casino events, jackpots, vouchers, and jackpot bonuses to its users. In addition, the platform also has an app that makes betting even easier.
MSport Registration and Login Review – 4.5/5
Signing up on the platform is straightforward, and it takes just a few minutes to complete the registration process. A mobile phone number and a password are all you need to finish the procedure. However, the betting platform will send a code to the phone number you used to confirm your registration.
To log in on the platform, you just need to enter your phone number and password into the spaces provided. The process is effortless, and you can access your registered account within a minute.
You also can use the "Forgot Password" option to assist you in regaining access to your MSport account. This is if you forgot your password at the point of login.
MSport Bonus Review – 5/5
The betting platform provides a variety of bonuses for new and existing customers. You can enjoy these bonuses when you sign up on the website, deposit funds into your MSport account and meet the terms.
Newly registered users can get vouchers when they fund their accounts. After you register, your voucher will be activated within three days and will remain valid for seven days. However, using these vouchers is subject to some terms and conditions. Visit the platform to see these terms.
MSport Banking Option Review – 4/5
The next step after you finalise your registration is to deposit funds into your account so that you can wager. To do this, you have to know the various payment methods available on the platform.
You can deposit money into your account using a variety of methods. There are three methods of depositing into your account:
Bank Card: This method requires you to enter your card details, such as ATM card number, expiry date, CVV, pin, etc. In addition, you will also need to enter the amount you wish to deposit. Your deposit will be successful once you enter the OTP or bank token sent to your phone number into the space provided.
Bank Transfer: This method allows you to transfer money directly to a temporary account provided by the platform via USSD or your bank app. The account provided usually expires after 30 minutes.
Using a Bank Account: To use this method, you need to input some personal details like your bank name, account number, date of birth, and the OTP or Bank token sent to your phone number to complete the transaction.
On the other hand, you will also need a payment method for withdrawals after you earn some winnings. You have to input the amount you wish to withdraw, and the betting platform will send the money to the account linked to your bank card.
Withdrawals and deposits are processed instantly, and they are free of charge. However, the mobile providers do charge a transaction fee.
MSport Mobile App Review – 3.5/5
We'll shift our focus to the MSport mobile app in this section of the MSport review. The platform provides a great mobile app for its users. The app is relatively small, yet it possesses virtually all the features listed on its website. It is 7.3MB in size, and it does not require a ton of storage or a powerful operating system to operate the app.
Customers can receive live notifications of their bets and access all of the bookmaker's features and services on the app. The mobile app offers a well-designed layout, and users will have no problem navigating it and altering preferences to suit their needs.
In addition, you can download the app from the platform using either the app download link or the OR code method. Sadly, MSport does not have an app that supports iOS devices. Perhaps, the betting platform will make this feature available for iOS users in the future.
MSport Sports Market Review – 4.5/5
The sports market is one of the main features of any bookmaker. MSport excels in this regard. The platform possesses a lot of markets and betting options for its users to wager on.
The most common sport globally is football, and you can find a lot of markets when you click on football in the sports section of the platform. Bettors can wager on markets like "score both halves," "win both halves," "draw no bet," and "cards market."
However, MSport is not limited to only football. You can bet on other sports such as basketball, ice hockey, baseball, rugby, e-sports, and badminton. Other sports available include darts, cricket, Aussie rules, volleyball, boxing, futsal, handball, etc.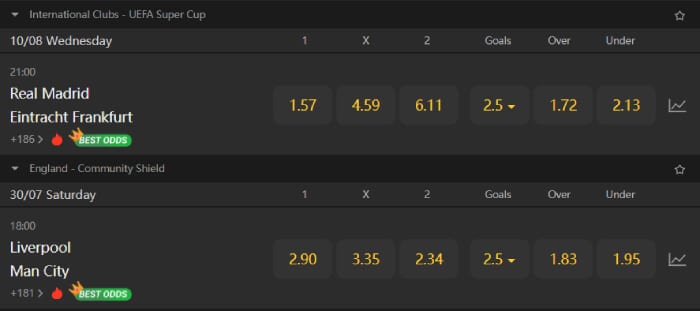 Odds
MSport has one of the most competitive odds out there. Its odds are slightly above those of other bookmakers. The difference may seem insignificant, but it builds up over time, especially when you play accumulator bets. This feature has helped increase its popularity among Kenyan punters.
Pre-match and live betting odds are available for major sports events, especially football. The odds for these events vary based on the betting market you select. Examples of the market are the 1X2 market, double chance, both teams to score, handicap, and over/under markets.
Live Betting
Live betting is also known as in-play betting. You can bet on events that are already in progress. Live betting is particularly helpful to bettors that are unable to bet on a game before kickoff. This feature contains a live commentary segment which allows users to get in-game stats about ongoing events. This, in turn, aids them in selecting decent bet options. However, the odds for live betting fluctuate based on what happens during the game.
In addition to live betting, many bookmakers allow bettors to live stream games. This means that users can watch their favourite games directly from the platform. As a result, you can be anywhere and still watch your team play. This takes away the need to watch from a TV or subscribe to TV networks. MSport does not offer live streaming options as beautiful as this feature is.
Cash Out
There is nothing better than being able to control your bets. Users can use the cash-out tool to reduce their risk of losing money. However, the cash-out is not available for all events, especially those that don't have the live-betting feature.
MSport Games Review – 5/5
Aside from the sporting events on the platform, users can also bet on games other than traditional sports. Let's see what they are.
Casino Games
You can play casino games on the platform and feel what it is like to be in a real casino. There are a handful of casino games on the platform, such as Hi-Lo, Mines, Dice, and Goal. There are also Plinko, Keno, Spin, Mcards, and Aviator.
Virtual Games
This is another way to explore the betting platform with the option of the virtual game. Usually, virtual games are decided in less than 5 minutes, so you can win quickly with this option.
Examples of virtual games on MSports are Virtual EPL, Virtual Euro Cup, Virtual Bundesliga, and Virtual live tennis. You can also wager on Virtual horse racing and Virtual dog racing.

MSport Review: Expert Opinion
MSport is, in general, a fantastic online betting site for Kenyans. In our review, we discovered available bonus offers. There is also a wide range of games and a massive selection of betting markets, all with competitive odds for users to wager on. In addition to that, the payment methods are straightforward to use.
Furthermore, MSport doesn't measure up to other bookmakers in casino games, as there are few casino games to choose from. The creation of a mobile app is also excellent. However, it would be much better if iOS users were also accommodated. The live betting feature is excellent, but the absence of live streaming on the platform dampens the excitement a bit.
The platform also has reliable customer care service. The representatives are courteous and professional. In addition, the customer care support features a live chat option where you can contact the agent available 24/7. Also, the live chat feature ensures that you will receive immediate assistance.
Overall, MSport is a fantastic alternative to signing up with an online betting site, and you should consider it.
MSport Review Kenya FAQs
After reading this guide, you must have known what MSport is and the most important things about the platform. Here are some of the frequently asked questions about this MSport review that you may find helpful.
Is MSport trusted?
MSport is trusted. It is an international betting site with a betting licence to operate in many countries.
How good is MSport?
MSport is an excellent platform as it possesses many features designed to make users get the best out of their betting experience.
Where is MSport from?
MSport is an international betting company that was first launched in Nigeria in 2020. However, it has gained a lot of presence in other countries since then.
How do I open an MSport account?
First, visit the platform's website and click on "Register" at the top right corner of the homepage. Then, fill in the registration details and follow the instructions.
How do I bet on MSport?
Choose the sports event and click on the market you want to bet on, input the amount you want to bet with, and then click on "Place Bet".
How to contact MSport?
Go to the bottom of the homepage and click on the arrow icon. Choose the customer service option, fill in the blank field with your details, and click on "Start Chat".