OdiBets Kenya has become a leader among the betting sites in Kenya. Read our OdiBets review to find out more!
---
---
How to Login at OdiBets Kenya?
Players in Kenya have plenty of reason to smile about, when it comes to online wagering with OdiBets. However, before they can start wagering, they first need to complete the OdiBets registration, which can be done in a few simple steps:
OdiBets Registration Review
Visit the OdiBets website and click on the "Join Now" button in the top right corner.
Next up, enter a valid mobile number and password. Failure to use a valid number will deny you access to the website.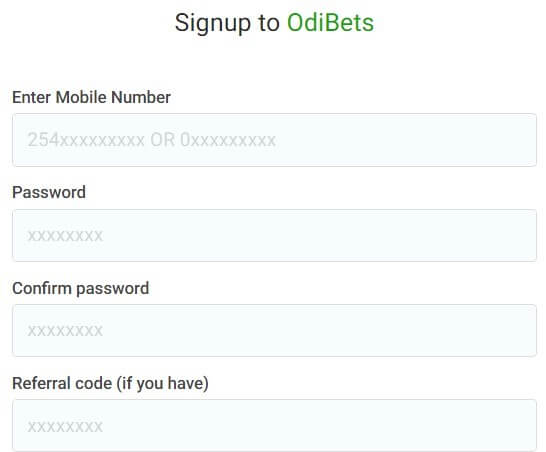 Once your account is created, you will receive a text message to verify your account.
OdiBets Login Review
Once you have registered your account, now you are ready to explore all the perks this operator has to offer. OdiBets login is quite simple, and here is what you need to do:
On the homepage, locate login option on the top right corner
Once the pop up screen appears, enter your mobile number and password then click enter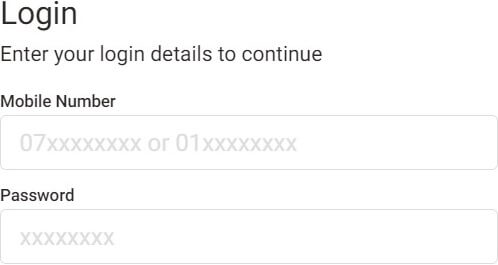 Once you have logged in, you can start playing your bets.
How to Claim OdiBets Kenya Bonus?
OdiBets Kenya offers new and experienced players the opportunity to take advantage of bonus offers. For new players, the welcome bonus is something that helps this website stand out. Taking advantage of the OdiBets bonus offers is easy.
Once a new player has registered an account with OdiBets Kenya, the next step is to deposit money into the account. They can do this by going to the OdiBets login page for the first time. We will discuss this in the next section.
This sportsbook offers new players a matching bonus. The maximum amount you can receive and the minimum amount you must deposit are set by the terms and conditions of the OdiBets site. You will need to view this page to learn more.
In addition, OdiBets Kenya also offers new players a first time 'free bet.' This enables you to place a bet on any single game without worrying about the risk. You can bet up to a certain maximum amount and, if you lose, the amount you lose is deposited back into your account. Again, you can learn more about this on the Terms and Conditions page.
Besides the welcome bonuses, OdiBets Kenya offers other types of bonuses for players. There are loyalty and other types of bonuses for continued use. This can lead to free bets, the OdiBets predictions offered, and even cash deposits into your account. They really make it worthwhile for players to use their website continually. You can learn more about these offers at the website.
How to Deposit at OdiBets?
Depositing money into your account is quite easy. After the OdiBets login to access your account, your next step is to transfer money. The website offers you the ability to deposit into your account by using the OdiBets paybill option.
When you want to deposit funds, you go to your account and choose to deposit. This takes you to the OdiBets paybill, which is connected to the M-Pesa system. You will notice that going to M-Pesa takes you to a different site. This is a site you can trust to complete your transaction. It has all the latest security and protection you need to protect your transaction and account.
Enter the amount you wish to deposit into your account and submit. Once the transaction is completed, the funds are available immediately.
How to Make a Withdrawal at OdiBets?
Your goal is to win and, when you do, you want to be able to withdraw money from your account. This is easy to do using the OdiBets paybill system. After you go to the OdiBets login page and log in to your account, you simply go to the withdraw link. This allows you to have access to the money in your account. This is where you can choose to have money restored to your paybill account.
Withdrawing money from your account is as easy as depositing. Once you have logged in and gone to the OdiBets paybill page, you choose the amount of money you wish to withdraw and choose to submit. This money will be returned to your account within 24 hours.
How to Download OdiBets App?
It is not surprising that most people use their mobile devices to perform everyday tasks. This includes such things as banking, ordering food, or communicating with friends. This is why the sportsbook operators do their best to understand this need of their users and provide the best services accordingly. They must provide a mobile betting app to appeal to players.
The OdiBets app is the perfect option for those looking to place bets, check out scores, or find the latest odds. This is the perfect app for people across Kenya, regardless of the type of device you use.
Android Users
If your device uses Android as its operating system, downloading and using the OdiBets app is a snap.
From your handheld device, go to the OdiBets website and choose to download the app.
Click to install once you have downloaded it to your device.
If you already have a OdiBets Kenya account, go to the OdiBets login page once the download and installation is complete.
Now login to your account. If you have not registered with the site, you will need to do so before logging in.
You are ready to place bets!
OdiBets Jackpot Review
If you wish to take advantage of the OdiBets predictions to win the jackpot, the first of the OdiBets tips that you need is to start with the type of jackpot you want to get in on. There are three types of jackpots available at the site. They are the Mega Jackpot, the Midweek Jackpot, and the Daily Jackpot.
There are a specified number of matches that are set for each of the three jackpot types and you must get all of your predictions correct. Each of the three jackpots has a set number to them, with the Mega Jackpot requiring you to hit on the most number of matches.
Of course, by moving up in the OdiBets jackpots, you have the chance to get to the Mega Jackpot. This is one of the OdiBets tips you want to pay attention to. Each match affords you the opportunity to win bigger prizes, but it also requires you to be knowledgeable about each match.
Check out the site to learn more about the OdiBets predictions to win the jackpot.
OdiBets Review FAQs
In this section, we will answer some popular questions about OdiBets Kenya.
Is OdiBets Legal in Kenya?
Yes, it is. It is completely legal for you to place bets on sporting events in Kenya. OdiBets Kenya has established itself as a leader in this category.
How to Register at OdiBets Kenya?
In the top corner you will find a button that says "Join Now." Click that button. The registration screen will appear. All that is required is that you enter a valid mobile number and your password. We mentioned this before, but you must have a valid phone number as you will receive a text message for verification.
How to Place Bets at OdiBets?
Once you are logged in, choose the sport you wish to wager on. You will find that a group of matches and odds are listed on the homepage. However, you can easily navigate to any match to find the one in the sport you wish to place a wager on.

Once you have chosen a match, you simply click on that event. Choose the type of wager you wish to make. This includes betting on the total, the winner, the spread, even prop bets. Choose the amount you wish to wager and submit your bet.
How to Cancel a Bet at OdiBets?
OdiBets Kenya offers you the opportunity to cancel a wager, but it must be done within 10 minutes of you placing the wager. This is an important time limit. You may have clicked the button by mistake. You may have realised you chose the wrong bet. Whatever the case, the sportsbook gives you the opportunity to correct that.
Our OdiBets Kenya Review
Design

Mobile

Bonuses

Payment Options
Our OdiBets Kenya Review
OdiBets Kenya has proven to be a trustworthy site that provides an opportunity for Kenyans to enjoy betting on their favourite games. There is a lot to like about the site, but there are also some drawbacks.
We admit that was a bit nit-picky. There is so much to like about this site, and you will enjoy the many features available.
Pros
Great design for both the desktop and mobile app versions
A large array of games available that allow you to play and bet on your favourite sport; these are available across the globe
Ease of use to deposit or withdraw funds from your account
The OdiBets livescore allows you to monitor games as they occur; this allows you to take advantage of the live bet option that is available
Great bonuses available, especially for new players
Cons
The site can be a bit overwhelming at first. There is so much information and availability for betting. It is a dream for those who love to place wagers on matches. It takes a little getting used to, however.