We are currently not working with Gamemania. Please, check the Mozzartbet review instead.
---
If you are a Kenyan player looking for a casino betting site, consider GameMania Kenya. You can read our GameMania review of this relatively new yet popular sportsbook here before signing up.
---
Contents
---
How to Login at GameMania Kenya?
Before you can place bets or play your favorite casino games, you must create an account. This will give you a unique identity to use at GameMania Kenya. Plus, when you create an account, you can take advantage of the GameMania registration bonus.
Once you have an account, you can sign in to the account and start wagering. In this section, we'll cover the GameMania registration and GameMania login processes step by step.
GameMania Registration Review
The first thing to do is create a GameMania account. To do this, follow these steps.
Use the button below to visit GameMania.
On the GameMania website, click or tap on the Register button.
In the register menu, enter your phone number. Remember, it must be a Kenyan number starting with 07. More specifically, the phone number must be a Safaricom number.
Any other operator or country's phone number will not work. This is because all payments are done through the M-PESA Safaricom number. It is necessary to have one for both withdrawals and deposits at GameMania.
Enter a safe and secure password. Make sure you can remember this password later on. Tap or click on the Create Account button.
Confirm and verify the phone number is yours. After you do so, the account will be created.
Before registering, you should always check the terms and conditions of GameMania Kenya. They will explain if it is legal for you to play at this site or not. If it is illegal or if you break one of their rules, your account may be disabled.
Now, you can enter your GameMania login credentials to sign in. We will explain how to do so in the next section.
GameMania Login Review
The GameMania login process is extremely simple. Just follow these instructions and you will be signed-in in no time. Then you will be able to claim GameMania bonus offers, place bets, and collect winnings.
To Log in, first, visit the GameMania Kenya website using the button below.
Click on the Sign In button. It is right next to the Register button, at the top right corner.
Enter the phone number you registered with. Enter the password as well. If you cannot remember your password, then go to Step 4.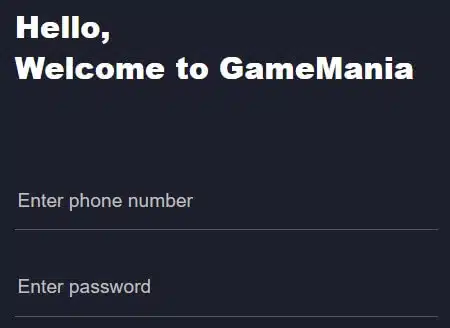 Click on the Login button to sign in. You're done – it's as simple as that.
If you have forgotten the password, don't worry. It happens to the best of us. Use the 'Forgot Password' link next to the password box.
Enter your phone number. A password reset link will be texted to you. Use the link to set a brand new, and hopefully, a more memorable password.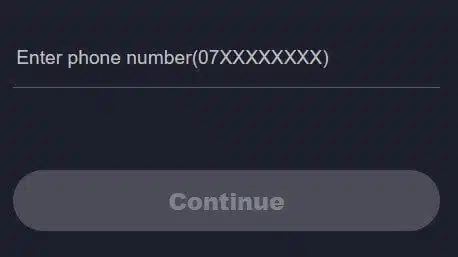 GameMania Bonus Review
There are numerous GameMania Kenya bonus offers. These offers can be claimed in various ways as well. They have different conditions and requirements.
The actual bonuses are changed out regularly. However, the currently active bonus will be one of the following GameMania bonus offers: Deposit bonuses, GameMania free spins or bets, and Cashback rewards
A deposit bonus is basically a bonus on your deposit. When you make a deposit, if this bonus is active, your deposit amount will be boosted. A 100% deposit bonus will double the amount of money you put into the account balance.
GameMania free spins are another very common type of bonus. Free spins, or free bets, are basically spins or bets that you can make for free. The actual stake amount is preset. You can make bets without risking any money, so they are a great bonus offer.
Cashback bonuses are similar to free bets and spins. With a cashback bonus, you get a portion of your stake back. You might get back anywhere between 5% and 100%. The range and conditions of this type of bonus vary massively.
A welcome bonus is basically one of these bonuses, given out as a one-time offer to new customers who have just signed up. You can claim this bonus after signing in with your GameMania login creds.
The GameMania registration bonus is usually a good deal. Other bonuses may have other conditions, such as a bonus being exclusively for the GameMania app's users.
In any case, you can claim each of these bonuses by creating a GameMania account. Deposit bonuses will be added when you make a deposit. The other bonuses are given out to all players.
How to Deposit at GameMania?
There is one very important step between creating a GameMania Kenya account and actually placing bets. This step is also fairly closely related to deposit bonuses
There are actually two ways to deposit. The first way is by registering and signing in to the website.
From the website, find the Deposit button at the corner when signed in.
Enter how much money to deposit. You will be depositing this from your Safaricom M-PESA account.
Confirm the payment when asked. The funds will be transferred to your GameMania Kenya account in a few minutes.
There is also an alternate way that does not involve the website at all. This way might be more convenient for those who only play on mobile.
Open the Safaricom operator menu on your phone.
From Make Payments, select PayBill
Enter GameMania Kenya's details, such as GameMania PayBill number and Account Name. Both these can be found on the website. The GameMania PayBill number is 290077.
Confirm the payment. The funds should be transferred over within a few minutes.
There is no minimum deposit amount at GameMania Kenya. However, there is a minimum amount you can transfer via M-PESA, which is KSH 100.
How to Make a Withdrawal at GameMania?
Making a withdrawal is just as simple as making a deposit. In fact, it is simpler, since you don't have to go out and make the deposits.
Just follow these steps to make a withdrawal:
Visit GameMania Kenya. Log in to your account.
From the account menu, select the Withdrawal or Cash Out option.
Enter how much money to withdraw. Keep in mind that any funds that are considered Bonus Cash cannot be withdrawn.
Confirm the withdrawal. The funds will be sent to your phone number directly through M-PESA.
The funds should arrive in a few minutes. If they do not, then you should contact GameMania's customer support.
GameMania App Review
For punters who like to play on the go, an App is a must-have. If you visit the website, you will find that it is a portrait-mode website designed for mobile devices, even on a desktop computer.
However, a GameMania app has more advantages. For starters, an app is more efficient when using data. The website will have to load all images and files from scratch. The app does not have to do it, since most of the data is stored locally after one initial download.
The initial download is usually pretty small too. The GameMania app's APK file is only about 10 MB in size. Any Kenyan punter should be able to install it.
The app is only available for Android. Players who are on iPhones or iPads will have to stick to the mobile website.
Follow these instructions to download and install it.
Download it. If a warning appears, don't worry about it. We have tested and found the app is safe.
Open the APK file. It will try to install the GameMania app. If you get an error about permissions, don't worry.
Open settings and go to Install Settings. Find the "Install Unknown Apps" option and the web browser app you are using. Enable it.
Now, click on 'Install' and wait for the GameMania app to be installed. Afterward, you can delete the APK file.
It will only take a few seconds to install the app.
The app's icon will appear in the list of apps. You can tap on it to open it. After logging in, you can use the app just like the website.
GameMania Casino Review
The selection of games at GameMania casino is a little limited, but there are still plenty of games to keep players interested.
For starters, there are some exciting slots like Mighty Buffalo, Candy Battle, Gold Fruit, Zoo or Punch it Hard. These slot games are very quick and fun to play. They have special features that raise the stakes and make each spin more exciting. And they also pay out fairly well.
If you don't want to deal with the pure randomness of a slot machine, don't worry. There are other games as well, including table games. For table games, there is a Baccarat and a Roulette table. These two are classic casino games enjoyed by everyone.
Plus, there are Bingo and Wheel of Fortune titles as well for anyone who prefers more casual gameplay.
Basically, even though the GameMania casino is limited to less than 20 games, there is enough variety to keep your attention for a while.
GameMania Review FAQs
Is GameMania legal in Kenya?
Yes. GameMania Kenya is fully licensed and regulated by the Betting Control and Licensing Board of Kenya. They are legal under the Betting, Lottering and Gaming Act, Cap 131, Laws of Kenya. The license number is 0000154 if you want to look it up yourself.
How to redeem GameMania bonus?
To redeem the GameMania bonus, you can simply make a deposit. This is for a deposit bonus. Alternatively, you can go to your page and find the Promotion menu. From there, you can activate a bonus or opt out of it.
How to play GameMania online?
To play GameMania online, simply visit their website. All the games and sports betting options available here are online. They can be played as long as you have an internet connection and a device to visit the website from.
How to contact GameMania?
To contact GameMania, you can use several different messaging and email options. The fastest way to contact them is via chat. The live chat is available on the website. To bring up the chatbox, just scroll to the bottom of the page and click on 'Contact Us'.

You can also text them using WhatsApp, or reach out on Social Media like Facebook and Instagram. Finally, you can email them at service@gamemania.co.ke. Emails are the slowest method, but you can put a lot of details together.
Our GameMania Kenya Review
Registration

Welcome Bonus

App

Deposit