Betsafe is one of Kenya's biggest Sportsbooks. If you want to get into sports betting action, then there is no better place to start. In this Betsafe review, we will analyse this sportsbook and casino, its features, and bonuses. Stick to the end to get a Betsafe Bonus Code from us.
---
Contents
---
Is Betsafe Legit?
In our Betsafe review, we found that it is a legit sportsbook. It sponsors two organizations and is licensed by the Betting Control and Licensing Board of Kenya. If you wish to look them up, their Public Gaming License is #0000119 and their Bookmaker's License is #0000301.
It also has a strong international reputation across 14 other countries and has been in operation for 14 years. All customers' funds are stored at a Tier-1 bank.
Betsafe Review: Our Opinion
To kickstart this Betsafe review, here is a general overview of the features at Betsafe Kenya.
Sports Betting Markets
Betsafe has a wide range of sports betting markets. The most popular games are Football, Basketball, Handball, and Ice Hockey. There are also 9 other sports to wager on. The selection of sports may feel a little limited compared to other sportsbooks. However, the betting markets for each sport cover a wide range of possibilities.
They plan to add more markets for Kenyan players in the future.
Jackpot Casino
Betsafe's jackpot is a unique game involving other bets. It's possible to win over KSH 100,000,000 from a single win, so they are a tempting option. There are also two smaller jackpots of 25 million and 300,000 – both still a huge amount of money.
Text Betting
Text Betting is a relatively unique feature that is not commonly found in online sportsbooks. With this, punters can simply send a text to a designated number to place a bet. There is no need to even launch the Betsafe sportsbook to place bets.
Live Betting
It is also possible to bet on games that are currently ongoing. The markets are different compared to normal betting and the odds can change every few seconds.
Betsafe does not feature any kind of live streaming feature. Instead, for live games, a detailed tracker displays the condition of the game in real-time. For instance, consider a game of Football. The live tracker will show which team has the ball, their current strategy, and goal attempts.
Fully Regulated and Licensed
Betsafe is as above-board as it gets. It is an international brand with sportsbooks outside of Kenya too. The operator is fully licensed and regulated by the Betting Control and Licensing Board of Kenya. It has both a Public Gaming License and Bookmaker's License.
Betsafe also adheres strictly to responsible gaming protocols. If a player has any kind of gambling problem during sports betting they can reach out to Gamhelp Kenya. The phone number is given on the website.
Betsafe is also a major sponsor of two sporting organizations: the Gor Mahia Football Club and the AFC Leopards Sports Club.
24/7 Customer Support
Customer support is available around the clock, 24/7. They can communicate in English only, however. Swahili support is not guaranteed. Customer service can be reached via phone or online chat from the website. Players can also email customer support.
| Pros | Cons |
| --- | --- |
| | |
| Easy to place bets. | Very few markets for a lot of sports. |
| Excellent Customer Support | Only one payment method |
| Very Well Reputed and Reliable | |
Betsafe Bonus Review
There are a couple of Bonus promotions ongoing at Betsafe. They are a good opportunity for players to earn some extra rewards
The Welcome Offer is given out after a new player registers and makes their first deposit. The deposit has to be at least KSH 49 in order to activate the first deposit bonus. When you bet your deposit amount on a game with odds 2.0, you will get a free bet.
The welcome package is not the only bonus here. A Multi Boost bonus kicks into play when players make a Multibet. It requires four or more bets with odds of 1.20.
The more bets in the multibet, the higher the boost. It starts at 3% and goes up to 200% deposit bonus for 30 or more bets.
Betsafe Sports Betting Review
Sports betting is the main highlight here. Our Betsafe Kenya review found that the sportsbook is quite well designed and easy to use. This is often a major concern with many other sportsbooks.
The website displays the list of games in a table in the middle. The sport can be selected from the list at the left or at the top. At the top right is a 'Select Market' option.
For each market, the odds for each match are shown in the boxes, alongside the competing teams, league, and time. To place a bet, simply tap or click on the box with the bet and odds. It will be added to the Betslip.
Here is a list of all the sports that can be bet on here.
Football
Football is the most popular sport in the world. It stands to reason it would be available at Betsafe. It has the most events to bet on out of any game, with over 700 available at any time. The markets include Double Chance, Both Team to Score, Over/Unders, Draw No Bet, and 1×2.
Basketball
Basketball is another sport that is surprisingly popular in Kenya. Players can bet on the NBA and other national leagues around the world. Markets include Odd/Even, 1st Quarter, Home and Away bets.
Tennis
There are only a few Tennis games at Betsafe. Top European leagues such as Bratislava and Linz are your best bet for sports betting. Tennis markets include Set Winners and Total Sets.
Rugby Union
Rugby Union is the only type of Rugby to be found here. Since there is no Rugby League here, most Rugby fans should be betting on this. National and international leagues are both available for betting. The only market for this sport is 1×2.
Cricket
Cricket is Kenya's second most popular sport, right after football. Kenya has participated in the Cricket World Cup on several occasions, so Cricket betting is quite popular here! Cricket Bets are all Match Winner bets only.
American Football
America might be half the world away, but American Football is still a popular game here in Kenya. Kenyan punters can bet on college leagues and the NFL,
Baseball
Baseball has quite a few leagues and events on Betsafe. Most of the Baseball events are on international baseball matches. Like Cricket, all the bets are on Matchwinner markets.
Darts
Darts is a simple game that is played competitively in many places. There are a good number of darts events listed, mainly focused on the World tournaments.
Handball
Handball is not the most popular game, but it is commonly played around the world. Several national Handball leagues are included, such as Croatia, Germany or France. For betting, only Match Winner market's available.
Ice Hockey
Ice Hockey is probably the second most represented game at Betsafe, with nearly a hundred different games at any time. There are a lot of markets as well, including Winner, Both Team Scoring, Goals O/U and Odd/Even.
Snooker
Snooker is a relatively simple game played at many clubs or bars. Competitively, it does not have many leagues or championships, but there are still some games to bet on here. The only betting market available for Snooker is Matchwinner.
Table Tennis
Table Tennis is a game similar to tennis, but it's played over a small table and requires even faster reactions. It can be an exciting sport to watch and bet on. But it isn't the most well-represented sport at Betsafe. Again, the best markets are limited to just Match winner.
Volleyball
Volleyball is a sport Kenya excels in, with great results in the African Games and good standings in the Olympics. There are a lot of Volleyball leagues for betting here. This includes national leagues ranging from Japan and Korea to Europe and Africa. The two markets for this are Set 1 Winner and Total Sets Played.
Overall, the sports betting facilities are easy to use. It only takes a few seconds to place a bet. However, outside the most popular sports like Football and Basketball, the markets for sports betting are quite limited. Most of them only have Match Winner bets.
Betsafe App Review
For mobile users, Betsafe Kenya has a mobile app. The app needs to be downloaded, but it saves punters the trouble of opening the website. With the app, they can launch Betsafe with a single tap from their home screen.
To download the app, open the website on a mobile phone in your browser. At the top of the screen, there will be a button to download the mobile app. Don't worry about any warnings. We have checked the app and can confirm that it is safe.
The layout and design of the app are almost exactly the same as of the website. It is simply optimised better. To use the app, you must either register or log in. The process is the same as on desktop.
If the app is not working, there are a few possible reasons. One of them is that your phone is too old. It should run smoothly on any phone released in the last 4-5 years.
Another possibility for the app not working is location. Betsafe is only available to players in Kenya. Anyone trying to download the app from elsewhere will get errors.
Betsafe Jackpot Review
The Jackpot is a unique feature of Betsafe. Punters can enter the jackpot on a daily basis. There are three of them in total: Daily, Middle, and Super. The Middle and Super jackpots are drawn every week.
The jackpot works like this: a number of football events are selected in advance. 9 for the Daily, 15 for the Middle, and 17 for the Super. To win the jackpot, players have to wager on these events and get every single one of them correct. Even if just one is wrong, they won't get the jackpot payout.
That said, if a punter gets more than 12 bets correct, they will be eligible for a compensation runners-up prize.
While it is rare that the Middle or Super jackpots are won, the Daily jackpot is won regularly. For most people, sports bets do not have the same allure of massive prizes that online casino bets do. That's because individual payout is relatively limited. The jackpot solves that issue.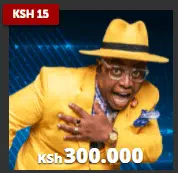 Betsafe Payment Methods Review
Unlike most online casinos or sportsbook sites, Betsafe only accepts a single payment method. This is used for both deposits and withdrawals.
Betsafe Only Accepts Payments Through M-Pesa
M-Pesa is universally popular in Kenya, so it's not a big issue. We will note in this Betsafe review that supporting other payment methods is always a good thing. The minimum deposit is KSH 49.
For withdrawals, M-Pesa is still the only option. Withdrawals will be credited to your M-Pesa account. The minimum withdrawal amount is KSH 100.
Deposits And Withdrawals Through M-Pesa Are Immediate
It only takes a few minutes for the money to appear. Deposits can be made in two ways: directly from the sportsbook, or from your M-Pesa app.
If you use M-Pesa, simply click on 'Lipa Na M-Pesa' then 'Pay Bill.' Enter Betsafe's business number 7290099, enter the account number and how much to deposit. Depositing in this way is quite convenient. It can be done by anyone with a mobile phone and an internet connection.
Betsafe Customer Service Review
Betsafe's customer support appears to be very active and helpful. There are three main ways to reach them: Phone, Email, and Live Chat.
But before talking to them, we recommend visiting the Help Centre, where frequently asked questions are answered. Extremely common questions such as "How do I make a deposit" or "Why can't I login to my account?" are answered in detail there.
To visit the help center, click on the 'i' inside a speech bubble at the top right corner of the site. The button is located right next to the Login button, on desktop. It is above the Register button on the app.
If you cannot find your answer there, use one of the following three methods.
How to Contact Betsafe Kenya?
To contact customer support via phone number, call +254 111 040000. In case that number does not work, the alternative number is +254 730 040000. This is the official number of the casino. You will be placed with a customer service rep, who will help you with your problem.
To contact them via Live Chat, scroll to the bottom of the page. Next to the 'Customer Care' section, find the "Online Help / Live Chat" link. Clicking on it will open a new window. Enter your full name, phone number and reason for help, then start the chat. A CS Rep will respond to you within 30 seconds.
Finally, if the problem is not very urgent, then email is a good option. The sportsbook's email address is care@Betsafe.co.ke. You can include as much detail in the email as necessary. The average response time is 30 to 60 minutes.
The customer service is of high quality. Betsafe has won the EGR Awards for Customer Services on several occasions.
Betsafe Review FAQs
What is Betsafe?
Betsafe is an online sportsbook dedicated to Kenyan Players. From this sportsbook, punters can place wagers on different sporting events that are happening in real life. They may win or lose their bets depending on the progress and winner of the real-life game.

This sportsbook also includes live and virtual games. With live games, bets are placed on a match currently ongoing. Virtual games are simulated by a computer. So, sports betting is not exclusively for real sporting events.
How to bet on Betsafe via SMS?
To bet on Betsafe via SMS, follow these steps:

Text "Betsafe" at the phone number 23333. Alternatively, if you use the Telegram messaging app, you can text the code there.

Then make a deposit using M-Pesa. Use the Paybill and send the money to the following number: 7290099.Finally, you can simply text your bet to 23333. For example, to wager 500 KSH on Manchester United to win their game, you would text "500 Man Utd Win". The operator will place your bet on the next upcoming game or currently ongoing game at the current odds. Details such as the Bet ID, Bet, Stake, Payout, and remaining Balance will be texted to you as a receipt.
Betsafe Review
Payment Methods

Mobile App

Bonus

Customer Support