There are different Sports betting terms in the betting market, and the over/under betting market is one of them. Here is a guide that will show you over/under betting meaning, including everything it entails.
---
Contents
---
What is the Over/Under Meaning?
When most people visit sportsbooks, their primary instinct is to bet on outright or points spread. However, outright bets are the most common market across all bookmakers globally because it's the simplest of their kind. You just bet on your favorite team or player. If they win, you win. If they lose, you lose.
However, another kind of bet offers the same thrill as an outright bet where you can root for both teams at once! It's the over/under predictions. If you're not sure what over/under meaning in betting is, this is the post you want to read from top to bottom.
Over/Under betting means that the total number of goals recorded in a match will be more than or less than the Bookies' specified mark/line. In this case, the winning team is irrelevant as the focus is on the total goals.
Predicting that there will be more goals than the projected total means that you're placing an Over bet, while predicting that there will be fewer goals means that you're placing an Under bet.
The Over/Under market isn't just for football alone. There are Over/Under markets in Basketball, Baseball, Tennis, etc. Its application is the same as football – betting over/under a given line. On some betting platforms, the Over/Under bets are referred to as 'total bets.' So, if you don't find over-under as a market on an online sportsbook, look for totals bet.
In soccer, the over-under is calculated with goals. In basetball, it's the game's total score, while in cricket, over/under betting might be offered on runs or total fallen wickets.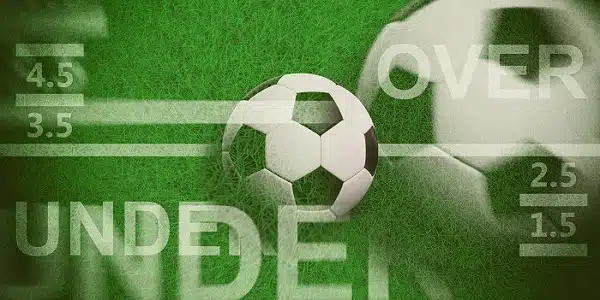 What Are Over/Under Betting Examples?
There are various Over/Under goals bets like Over 1.5, Over 2.5, Under 3.5 meaning, etc. Over 1.5 means that there will be 2 goals or more scored in the match in regular time. It doesn't matter if both teams score or just one team scores. What's most important is that there are 2 goals in the match for your bet to be a winning bet. However, over 2.5 means that there will be a total of 3 goals or more in a game.
An Under 3.5 meaning bet market means that the teams will score 3 goals or less in regular time. If the teams score 4 goals, you lose this bet. For an over 3.5 goals meaning, goals scored in the game must be at least four for the bettor to win.
Be sure to know about the sport before placing an Over/Under goals bet. For example, for Basketball, you can get something like Over/Under 190.5. So, it depends on the sport you're placing your bets on, but the application is the same.
The best way to understand any sports betting concept is through over/under bet examples. Because if you're just starting out or have minimal experience in the over-under market, most of the over/under meaning terms won't make any sense.
For easier understanding, let's stick to the 2.5. So if you wager KHs 110 on over and the match ends with a 3-0, 2-1, 1-2, 0-3, or any other combination where the total is over 2.5, you will win the bet.
For under 2.5 predictions to win, the game's total score must remain under 2.5. So, combinations such as 1-1, 2-0, 0-1, 0-0, or similar scores take precedence.
Best Over/Under Betting Sites
How to Place an Over/Under Bet?
For some sportsbooks, the market is written as 'Over/Under' while for some, it is 'Total.' Of course, it's the same thing, so don't get confused when you log in to whatever betting platform you choose.
How to place an over/under bet?
First, you need to understand and grasp the whole idea behind this market

Since you know that this market is all about total goals, whether more or less, you need to study the teams you want to bet on. Here, you're rooting for both teams.

Also check their head-to-head, the availability of important players, the weather condition for the match to be played

As well as other essential factors before placing your bet.
For instance, if you're placing an Over bet, make sure the teams you're placing a bet on are scoring teams, check their previous matches and how they've faired in those matches.
Also, check their head-to-head, the availability of important players, the weather condition for the match to be played, and other essential factors before placing your bet.
All these affect the outcome of the match, whether positively or negatively. At times, you might not get the result you wanted from a game, and that's football for you, but a whole lot of the time, the Data and statistics of these teams help to place your Over/Under bets.
Over-Under Predictions FAQs
You must now understand what over/under market means after reading this guide. Here are some frequently asked questions about the "over/under meaning" term in sports betting.
How to interpret over-under odds?
In most cases, you'll find -110 odds across bookmakers in Kenya. If that's not the case, the odd with (-) is a more likely outcome, according to the bookmaker. Note that -110 odds mean you need to wager KHs 110 to win KHs 100. The opposite is true for +110 odds, where you can win KHs 110 by wagering KHs 100.
How to calculate over-under?
The bookmaker calculates the primary value of the over-under predictions. Next, you can calculate the game's total score to see whether over won or under. If there are any handicaps involved, you need to settle them after the match ends.
What happens if you hit the over/under precisely?
In general, a bookmaker offers a value that cannot be obtained. For example, you cannot score half goals in football or fractional runs in cricket. In case you find a bookmaker that offers integer over-under, the most likely outcome is you getting your stakes back.
Does the over/under include overtime?
Yes. Overtime is included in the over/under market. However, there might be exceptions where a bookmaker doesn't include overtime.
Does the over or under win more?
It depends on the factors we've covered in this guide. If it's a fast-paced match, the over might win. Similarly, if it's a laid-back match, the under might win. It's impossible to predict beforehand, and that's the beauty of sports betting.