Potential new customers residing in Kenya must go through a registration process to create an account. Players can join the operator via SMS, the website and app, entering the optional Betsafe bonus code.
---
Contents
---
Betsafe Registration Kenya: Instructions
Potential new customers should visit the brand's website or mobile app. There is a mobile sportsbook and downloadable Betsafe apps for Android and iOS devices. The registration is basically the same across the platforms of PC, mobile and tablet.
Customers should click on the 'Register Now' button to begin the registration process. There are fields for account and personal information which is collected to ensure it is a unique account and individuals are not creating multiple accounts to abuse the welcome bonus.
The first step is to enter your mobile number which by default will have a Kenya country code.
Then, you specify a Username and Password, fill in the required field with personal data and enter an optional Betsafe promo code or Betsafe bonus code.
Finally, you confirm the acceptance of the operator's Terms & Condition and that you are the legal age to gamble in Kenya which is 18. The final registration step is to create an account which once completed means you can make the first deposit and place bets.
Depositing funds into a new account activates the welcome offer. The value of the Betsafe sign up offer which comes in the form of a 100% matched deposit bonus. It is a genuine 100% match deposit bonus because the value of the bonus equates to the qualifying deposit.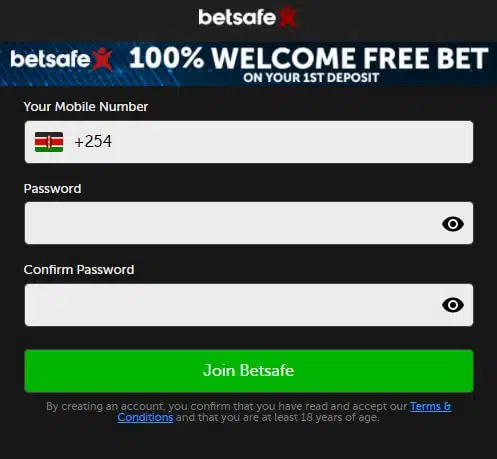 Betsafe Registration by SMS
Betsafe registration by SMS means creating an account with the betting company through the Short Message Service on a mobile phone. It is a text messaging service that can be used on mobile devices. Now, it is possible to register with Betsafe using this method. The process is completed by sending an SMS to the Betsafe phone number. It is quick and straightforward and an efficient way to open an account.
Here is a step-by-step guide to registering via SMS:
Send an SMS to Betsafe
Send the word "Betsafe" to the operator's number which is 23333.
Confirmation
By immediate automated response a confirmation message welcoming you will be sent to your mobile phone: 'Welcome to Betsafe".
Password
By default, the Password is "password". This can be used for the first login and then a unique Password can be created for the account.
Betsafe Kenya registration using a text message is a quick and simple method. There is very little user input but you must make sure you get the Betsafe number right and enter it into your mobile phone correctly. It is an increasingly popular way to register with a betting company in Kenya. New customers joining by SMS can claim the maximum 2,000 KSH 100% matched deposit bonus.
Betsafe Registration via Website
Historically, registering to betting companies via the website was the most common method. An operator like Betsafe may launch a desktop betting service and add a mobile sportsbook and downloadable apps at a later time. Betsafe Kenya registration using the website means visiting the site and beginning the Betsafe sign up process. Registration is completed over a number of screens and ends with the new customer creating an account.
You must follow these steps to register on the website:
How to open an account at Betsafe Kenya?
Visit Homepage of Betsafe Website

You go to the Homepage of the website by entering the URL, coming from another page, or using a search engine with keywords like Betsafe Kenya.

Register Now

Click on the 'Register Now' button in the top right hand corner of the Homepage which takes potential new customers to the registration screens.

Fill In Required Fields

Fill in the required field with personal details such as date of birth and mobile phone number. Then specify a unique Username and Password which are required to log. You can also enter an optional promo code or bonus code which tracks the progress of the welcome bonus.

Confirm Account

Confirm acceptance of the Terms & Conditions and that you are aged 18 or older. A confirmation message is sent to your registered email saying: "Welcome to Betsafe" which indicates you have successfully signed up with this operator.

Claim the Welcome Bonus

Make the qualifying deposit to activate the welcome bonus and start to place bets. The offer is subject to wagering requirements and other specific and general Terms & Conditions.

The registration process using the website is easy and seamless. You can join, deposit betting funds and place bets with very little delay.
Betsafe Registration on the App
The operator has launched downloadable apps for Android and iOS devices. There is also a mobile version of the website which works with browsers that have been optimised or mobile. Registering via the app means using a smartphone or tablet to sign up with the operator. The process mirrors the website registration but on mobile devices rather than desktops.
How to Deposit at Betsafe?
The most common deposit method to Betsafe Kenya is using M-Pesa, using a mobile device. Here is a step-by-step guide to making a deposit in this way:
Go to the M-PESA menu on your mobile phone.
Select Lipa Na and then Pay Bill.
The Betsafe Business Number is 7290099.
The Account Number is Betsafe.
Enter the amount.
Enter the M-Peas PIN and click 'Send'
Receive an SMS message to confirm the deposit.
There is also the option to make a deposit on the website. You login to your Betsafe account, click on the 'Deposit' icon, enter the amount and click 'Deposit'. Transfers are immediate and free of charge and the minimum deposit is 50 KSH.
Benefits of Registering with Betsafe
As you can see, it is fairly easy to complete the Betsafe registration process. Once you do this, make sure to familiarise yourself with the benefits of creating an account before you start to bet on Betsafe.
The registration bonus: if you are looking to take advantage of the free bets, matching deposits, and other bonuses that are offered, you can do this after meeting the appropriate terms.
Live betting: You will love live betting that is available at Betsafe Kenya. This has become one of the most popular forms of betting, and now you can bet on Betsafe, even on live sporting events.
Use text betting: One of the things separating this operator from other sportsbooks is that they offer text betting. To use this Betsafe Kenya bets feature, you need to send a text to 23333 for the selected betting pick you wish to make.
This feature allows you to place a wager that is connected to your mobile number. This is easy to use, as all you do is text something like: "100 Manchester United to win." This means you placed a bet on Manchester United for 100 Ksh to win the game. It really is that easy.
Great betting options: this operator is one of the best internationally recognised sportsbooks, providing the largest market for sporting events, odds, and types of bets you are going to find. More types of bets on sports events are available to meet your needs.
Carious Bonuses: There are great bonuses available when completing the Betsafe registration. The biggest of these is the "Jackpot Bonus." Learn more about this feature by clicking the "Jackpot" tab on the website.
Betsafe Registration FAQs
These are commonly asked questions people have regarding Betsafe.
Is Betsafe legal in Kenya? 
It most certainly is. Betsafe has received a license to operate within the borders of Kenya. This makes it safe for you to use the site legally.
Who owns Betsafe?
Betsafe is owned by Bet High Kenya, a subsidiary of Betsson Kenyan.
How to bet on Betsafe via SMS?
Some people wish to make the login process a little simpler by using the SMS option. This is available at Betsafe. All you need to do is to enter your phone number and you will receive a verification code. Enter this code, and you will not have to enter a password. All you will need is your mobile number to access your account.
How to contact Betsafe?
While Betsafe is one of the easiest sites to navigate and use, issues may arise. Should you have problems with the registration process for your account, you can get assistance through the 24-hour live chat, by calling the Betsafe phone number, or through email. The live chat and phone response are available 24-hours a day.