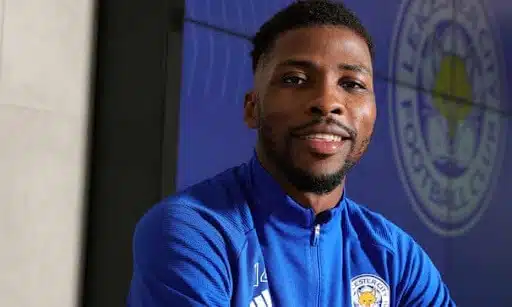 Player Profile
Name
Kelechi Iheanacho
Nationality
Nigerian
Date of Birth
3 October 1996
Club
Leicester City FC
Position
Forward
History of Kelechi Iheanacho
Kelechi Iheanaho was born on 3 October 1996 in the city of Owerri, Imo State in Nigeria. He started his playing career with the Taye Academy in Owerri, before he was picked up as part of the team to represent Nigeria in the 2013 FIFA U-17 World Cup.
He performed so well at the 2013 FIFA U-17 World Cup, winning the Golden Ball award, Silver Shoe Award and finally the FIFA U-17 World Cup Title. His performance at the Under 17's put him on the radar and he started getting inquiries from top European clubs like Arsenal, Sporting CP, and Porto. But finally, it was Manchester City that secured his services and he signed with the Club on his 18th birthday in October 2014 as a youth team player. He joined the senior team in 2015. He went on to play a total of 46 games for Manchester City over the space of 2 years before moving to Leicester City in 2017 for a reported fee of £25 million.
Kelechi Iheanacho Career In Nigeria
Iheanacho started representing Nigeria from Under-13 competitions.
In the 2013 African U-17 Championship, Iheanacho will shine by scoring a hat-trick in the win over Botswana. Nigeria will reach the finals of that tournament and lose to Ivory Coast on penalties.
But, the 2013 FIFA U-17 World Cup was where Iheanacho shone brightest on the World stage. Scoring 6 times, once in the final and assisting 7 times to win the Golden Ball and the Silver Shoe awards and ultimately the title.
Iheanacho was part of the Nigerian team that played in the 2015 FIFA U1-20 World Cup but couldn't replicate the success he had at the 2013 edition.
Iheanacho broke into the senior team and played his debut match as a substitute in a FIFA World Cup qualifying match in a goalless draw with Eswatini.
Iheanacho started his first game with the Super Eagles on 25 March 2016 in a 1-1 draw with Egypt.
Kelechi has played a total of 34 matches for the Super Eagles and has scored 11 goals in all competitions.
Kelechi Iheanacho International Career
Manchester City
By January 2015, Iheanacho joined the Manchester City Academy and scored in his first match against Sporting Kansas City in the US as the club was on a pre-season tour. He scored against AC Milan in a 5-1 win on the same tour, proving his scoring abilities.
It wasn't until February 2015 that Iheanacho made his competitive debut at the Under 19 level for the Manchester City team but was taken off after 11 minutes as he sustained an injury. But that didn't stop him as he quickly recovered and scored the only goal in the Premier League International Cup as Manchester City beat Porto to win the title.
On 29th August 2015, Iheanacho made his EPL first team debut when he replaced Raheem Sterling in a 2-0 win against Watford. He scored his first goal for the first team on 12th September, coming off as a substitute to score the winner at a 0-1 win over Crystal Palace.
Iheanacho would go on to end the 2015/2016 season with 8 premier league goals for City and 14 goals and 5 assists in all competitions. This made him City's 3rd highest goal scorer that season even though he just started 11 games. He would go on to increase his Premier League goal tally the next season to 10 goals.
While playing and scoring for City in both domestic and European football, Iheanacho was nominated for the FIFA Golden Boy Award in October 2016, which was won by Renato Sanches.
Iheanacho scored his last goal for City in a 5-1 FA Cup Fifth Round match against Huddersfield.
Kelechi played a total of 46 games for City and scored 12 goals in all competitions.
Leicester City
On August 3 2017, Leicester signed Kelechi Iheanacho on a 5-year contract for a reported fee of £25 million. His debut match for the club was against Arsenal in a 4-3 loss on 11 August 2017. He scored his first goal for Leicester in the EFL Cup competition against Leeds United on 24th October 2017.
Iheanacho has been under the radar from the 2017/2018 season until the 2020/2021 season where he started to shine brightly. He scored his first Premier League hat-trick on 14 March 2021 against Sheffield United. He went on to score a brace against Manchester United in the FA Cup to send Leicester to the semifinals of the FA Cup for the first time since 1981-82. He went on to score 5 goals in a run of 3 games and that helped him win the Player of the Month award.
Iheanacho scored the only goal in a 1-0 win over Southampton in the semi-final of the FA Cup to take the team to their first FA Cup final since 1969. Leicester will go on to win the FA Cup by beating Chelsea 1-0 in the final game at Wembley,
In the 2021/2022 season, Iheanacho has once again demonstrated his scoring abilities by scoring a late penalty in a 1-0 against his former club, City to win the FA Community Shield.
Kelechi has played a total of 101 matches for the Foxes and has scored 21 goals in all competitions. In April 2021, he signed a new 3-year contract set to keep him at the club until 2024.
Kelechi Iheanacho Teams
Team
Period
Manchester City FC
2014/2015- 2016/2017
Leicester City FC
2017/2018 – 2021/2022
Where Can I Bet on the next matches Kelechi Iheanacho will take part in?
Kelechi plays for Leicester in the English Premier League, and they are competing for the English Premier League title, the Europa League, the Carabao Football Cup and the FA Cup. The Nigerian national team that Iheanacho is a part of is also playing in the 2022 FIFA World Cup and African Cup of Nations in 2022 too. So, there are enough matches to bet on.
We looked around and found some of the best betting sites for you to bet on Kelechi Iheanacho's games. You can check them out and add them to your slip once the game is approaching. Something to keep in mind: the Leicester team once won the league title at 5000/1 odds in the 2015/2016 season, so they can make you win a lot of money.
| Betting Site | Deposit Bonus | Bet now |
| --- | --- | --- |
| 22bet | 100% up to KSH 18,000 | |
| BetWinner | 100% up to 100 EUR | |
| Chezacash | Karibu bonus | Coming Soon |
| Dafabet | 50% first deposit bonus | |
Frequently asked questions about Kelechi Iheanacho?
Here are some frequently asked questions about Kelechi Iheanacho.
Where is Kelechi Iheanacho from?
Iheanacho is from the southeastern part of Nigeria. He was born and grew up in Owerri, Imo state, even playing for the Taye Academy's local team.
What is Kelechi Iheanacho current club?
Iheanacho plays currently for the Leicester City Football Club in the English Premier League. He was signed in 2017 for a reported sum of £25 million on a five-year contract.
Is Kelechi Iheanacho left or right footer?
Iheanaco's dominant foot is his left foot.
Who is Kelechi Iheanacho's agent?
Kelechi Iheanacho's agent is the ICM Stellar Sports group.
What is Kelechi Iheanacho Nigeria's jersey number?
Kelechi Iheanacho wears the no. 14 jersey for the Nigerian national team. The same number that he wears for the Leicester City Football Club.
What are Kelechi Iheanacho's awards?
Kelechi Iheanacho has gotten several awards since his World Cup debut in 2013. Some of the awards are:
2021
Premier League Player of the Month (March)
FA Cup Winner (with Leicester)
FA Community Shield (with Leicester)
2016
CAF Most Promising Talent of the Year
Football League Cup (with Manchester City)
2013
FIFA U-17 World Cup
FIFA U-17 World Cup Golden Ball
FIFA U-17 World Cup Silver Shoe
CAF Most Promising Talent of the Year
CAF U-17 African Championship Silver Shoe