With online betting being on the rise, there is a need to be familiar with several sports betting terms, including accumulator meaning in betting. A detailed explanation of the meaning of accumulator in sports betting alongside the types and a guideline on how to place this bet is explained in this article.
What Is Accumulator Meaning In Betting?
An accumulator is a popular football. It is also known as an "Acca" in betting. So what is an accumulator meaning in betting? It is a combination of bets from several games into a single bet in order to create a bigger payout.
To get the best from an Acca bet, all selections on the bet need to come in. Each of the multi bets on your Acca betting must be successful.
Acca betting has more competitive odds compared to a single bet, and this bet allows players to bet on every possible outcome of a game. However, the more selections added to this type of bet, the less likely a bet will be successful.
Although the value of these many bets is increased when they are bundled together, if one of the selections is lost, the entire accumulator wager is lost as well, making this a high-risk bet. Now that you know Acca meaning in betting let's take a look at some examples below.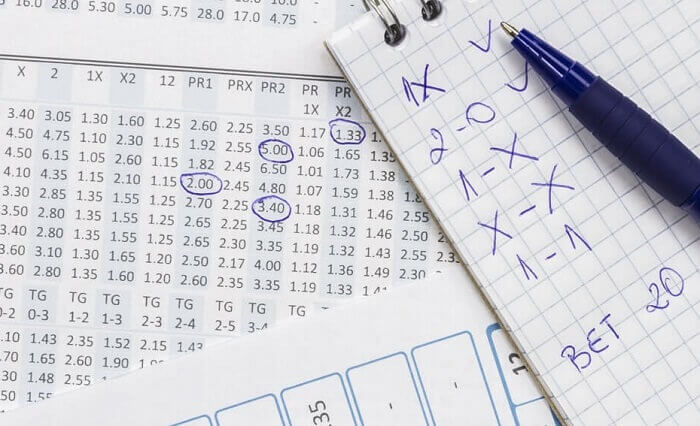 ---
Contents
---
Accumulator Betting Examples
Below are a few examples of this kind of bet.
Example One
This is an example of a four-fold accumulator between four football matches.
| Selection | Result | Odds | Bet outcome |
| --- | --- | --- | --- |
| West Ham to win | West Ham 2Tottenham 0 | 2/1 | Won |
| Arsenal to win | Arsenal 1Aston Villa 0 | 3/1 | Won |
| Manchester United to win | Manchester United 2Crystal Palace 1 | 2/1 | Won |
| Liverpool to win | Liverpool 3Brighton 1 | 4/1 | Won |
Example Two
| Match | Selection | Fractional Odds | Decimal Odd | Bet Outcome |
| --- | --- | --- | --- | --- |
| Chelsea vs Sunderland | Chelsea | 1/7 | 1.14 | Won |
| Liverpool vs Middlesbrough | Liverpool | 1/7 | 1.14 | Won |
| Leicester vs Bournemouth | Leicester | 4/5 | 1.8 | Lost |
| Burnley vs West Ham | West Ham | 4/5 | 1.8 | Won |
According to the rules of this kind of betting, as a result of losing one bet, the entire bet is lost too. Therefore, the above isn't a successful bet.
Accumulator Betting Types
As earlier mentioned, this type of bet comprises two selections of bets or more. Although there can be up to 20 selections of games in the bet, the most common types are the following:
Double
The double bet consists of two different game bets that form a bet. This means that the two game's predictions must be correct before a double bet can be won.
Treble
The treble bet involves three selections of bets combined into one multiple bet. All accumulator predictions must be successful.
Four-fold Accumulator
In the same way, the four-fold bet simply means four selections of bets forming a bet. They consist of four different events and selections of games.
Five-fold Accumulator
A five-fold bet consists of five picks in a single bet and has the same rules as all other Acca bets.
Six-fold Accumulator
This is a selection of six different bets forming a singular bet. Consequently, all selections must be successful.
Seven-fold Accumulator
The seven-fold accumulator consists of seven picks of bets forming a bet. This, therefore, means the seven-fold bet works on seven different sports events.
Eight-fold Accumulator
This is a bet of eight different picks forming a singular bet. So, with this bet, punters can wager on any eight matches of their choice.
How To Calculate An Accumulator Bet?
It is calculated by converting all the fractional odds of a bet. Therefore: Total Returns = Initial Stake x (Odds of All Teams).
So, for example, if you bet 1 KES in a bet with a total fractional odd of 179/1, your total potential profit will be 179 × 1 KES stake = 180 KES.
Best Accumulator Betting Sites
How To Place An Accumulator Bet?
In addition to learning the meaning of accumulator in betting, learning how it works is equally important. Placing this type of bet is simple on most online sportsbooks. Here is a simple guide on how to place this type of bet.
How to place an accumulator bet?
First, log in to your preferred betting site.

Then, choose the sport you want to bet on e.g. football.

Specify the type of bet you want to make e.g. team to win.
Make the selection you want for your accumulator.
Add all your selections to your bet slip.
Check under the "multiples" section, and you'll find "accumulator" there.
Next, enter the amount you'll like to wager.
Finally, confirm your selections and tap the "place bets" button.
Accumulator Betting Conclusion
If you like to have your odds lengthened rather than risking your money on separate events with considerably shorter odds, accumulator bets are the way to go. This technique gives the bettor a chance to win at small stakes. However, the increased number of variables makes it hard to win an accumulator.
Now that you know the meaning of Acca in betting, you need to be cautious while using them, and also ensure that you have done enough research for every selection.
Accumulator Meaning In Betting FAQ
Here are the answers to some of the frequently asked questions.
How are accumulator bets calculated?
To calculate an Acca bet, you'll need to take an approach as the total value simultaneously grows with the addition of every single selection.
If a bettor chooses four selections in a single Acc bet, for example, the initial stake will be multiplied by the odds of the first bet. You can multiply your stake by the odds, then multiply the total return by the second set of odds, and so on.
How do each-way accumulators work?
Each-way accumulators are mostly used in horse racing. It is designed to help punters win something even if their bet doesn't win altogether. In this case, a second bet is added, which will select all "places" to win.
What is a 7 fold accumulator bet?
A 7 fold Acc bet is a kind of bet that works with eight different event selections. When you select eight different events and choose the seven-fold as your preferred accumulator, the system will automatically arrange the eight events in a number of places and the combination of any 7 of the eight events.
What happens if a bet is void in an accumulator?
The void bet or selection becomes a non-runner, and the other selections or matches are used to settle the Acca bet.